Indian Overseas Bank Balance Check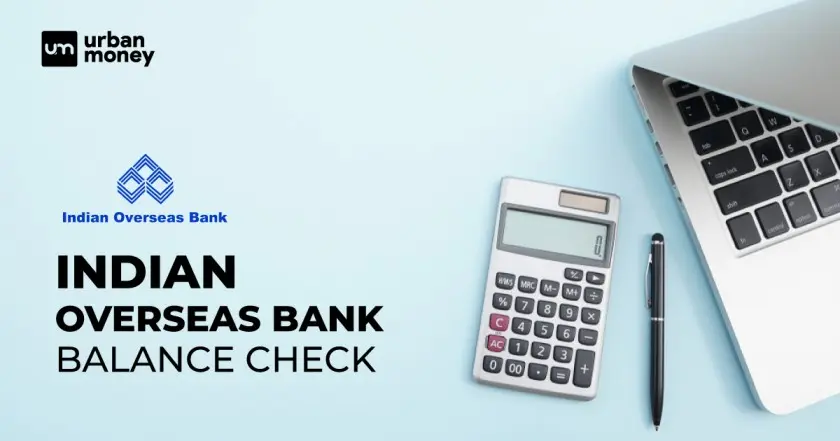 As a result of frequent operations, it is essential to keep bank balances at all times, regardless of location. Provided an Indian Overseas Bank customer has registered their mobile number with the bank, they can undertake balance check updates from anywhere and anytime. Understanding how the IOB balance check number works is imperative. This piece highlights the IOB Bank Balance check process can be done through numerous methods.
IOB
Balance Check Numbers
To Check Indian Overseas Bank account balance the customer need to call or SMS and follows the below listed method with IOB balance check mobile number.
IOB Balance Check by Calling Missed Call Number
A user can do an IOB balance check the mobile number of their last five transaction details of their saving account just by giving a missed call on the number '8424022122'. After giving a missed call, you can easily retrieve the last transaction details via SMS. 
Indian Overseas Bank Balance Enquiry through SMS Banking
For the IOB balance check, you can use the SMS text banking number to send a pre-defined SMS text. In return, you will get a reply and details of your bank saving account balance. 
The list of the pre-defined tag syntax is mentioned below:  
| | |
| --- | --- |
| Type    | Description |
| Account Bank Balance enquiry | BAL <space> last four digits Account Number |
| IOB Mini Statements | MINI <space> last four digits Account Number |
| Know your MMID | MMID<space> last four digits Account Number |
How to Check IOB Balance Online? 
Indian Overseas Bank account holders can verify the Indian Overseas Bank balance check number online via numerous methods, including net banking, mobile banking applications, mPassbook or UPI ID. 
IOB Balance Enquiry by Mobile Banking Apps
Indian Overseas Bank provides a mobile banking facility using which you can use to access all the banking services via a mobile banking app. Let us find out in detail below: 
IOB Balance Check by IOB mPassbook
IOB is delighted to inform all of its valued clients that it launched a new mPassbook on August 15, 2015. It is a mobile phone application that will enable you to create and upgrade the virtual passbook online. This app will allow you to perform an IOB balance check mobile number by eliminating the need to visit branch offices to update your passbook regularly. 
This mobile application also serves as a personal accounting system. It allows you to categorise your income and expenses from your accounts, such as groceries, gas, and travel. Individual statements can be made against each payment and saved for future reference.
It refers to an online passbook, which Indian Overseas Bank applicants can use this method to check their saving account balance along with transaction information.

mPassbook consists of debit and credit transaction details performed by an IOB applicant.

It allows account holders to check their current savings account balance at any time.
IOB Balance Check through Mobile App
Customers of IOB who are familiar with conducting banking transactions via net banking can conveniently use this mobile application.

Download the IOB Mobile application from the Google PlayStore or AppStore for

iob bank balance check number. 

Fill out the mobile banking to use application.

After registering, enter the User ID and password. 

The platform provides balance checks, accounts IOB mini statements, funds transfers, IMPS, NEFT, RTGS, Bill Payment, etc.
IOB Balance Check by IOB Nanban
IOB Nanban is also a mobile application which can be used for non-financial banking services. You can do an Indian Overseas Bank bank balance check number through the IOB Nanban app.
However, customers need to use the application by visiting the nearest bank branch to activate their mobile banking application. In addition, fill out the application form to generate the mobile banking option for your bank saving account.
IOB Account Balance Check via UPI
Some of the steps are mentioned below for iob balance check through UPI.
Open the mobile application account. 

You can make them through phone number, UPI id or scan the barcode. 

Enter the secret PIN code.

Click on continue to make the payment. 
IOB Balance Enquiry through Netbanking
Net Banking is an online Banking method to access your bank account and iob bank balance check number. You can follow these steps to use net banking to find your bank account balance.
Step 1: Go to IOB's official net banking website.  
Step 2: Enter the credentials into your net banking account and sign in.
Step 3: Refer to the 'Account Summary' option after signing in. Select the account number and find the current bank balance on your screen.  
IOB Balance Enquiry through IOB Passbook
Customers who opt to be doing their banking offline or haven't registered for net banking can perform an IOB balance check through their account passbook. An individual can check their account bank balances while sitting at home, which is one of the simplest methods for checking account balances.
However, these clients must ensure that their passbooks are constantly updated. So that it always shows the current balance and has a finished history of every transaction they perform. This isn't a viable choice for individuals who don't maintain their passbooks by attending the bank or planning to travel. Therefore can verify their passbooks frequently.
IOB Balance Check by Visiting an ATM
The bank offers its customers free updating balance and iob bank balance check number. You can also get other bank ATMs to verify your bank account balance through limited transactions.
Put your ATM card into the machine.

Enter the four PIN digits on the machine.

Choose the category to see your Bank balance. 
Why Should We Carry out Balance Enquiry Frequently?
Balancing your savings account and iob balance check may be a challenge. However, monitoring your expenditures and realising your sufficient money. It can assist you in detecting fraud, avoiding overdraft charges, and better understanding your spending habits.
Balance your account by identifying your deposits and withdrawals. Moreover, try to attach them to calculate your balancing act. It can be carried out on paper or with financial planning operating system.
Frequently Asked Questions (FAQs)
Do I have to register my mobile number with the account of Indian Overseas Bank?
Individuals need to fill out the application form for mobile banking and submit it to the proximity branch. After verification of the enrollment, the bank sends back a welcome kit which consists of mobile banking information with a secret mPIN. 
How can I register for IOB banking and mobile banking services?
Download and Install IOB Mobile Application from the google play store. Fill out the customer id or 15 digits account number. Reset the six digits login password. Then, to transfer the funds, you need to enter the six digits via an ATM card.
Where can I find my IOB mini-statement?
The bank has introduced the 84240 22122 missed call number. A customer must send an SMS or make a missed call from the user's account RMN.
Can I check the IOB account balance even when it is not an IOB ATM?
Users of IOB can verify their account bank balance by sending an SMS to 84240 22122 from their enrolled phone number. The format of sending the request is 'BAL Last 4 digits of Account Number>'.