RBL Bank Full Form - Ratnakar Bank Limited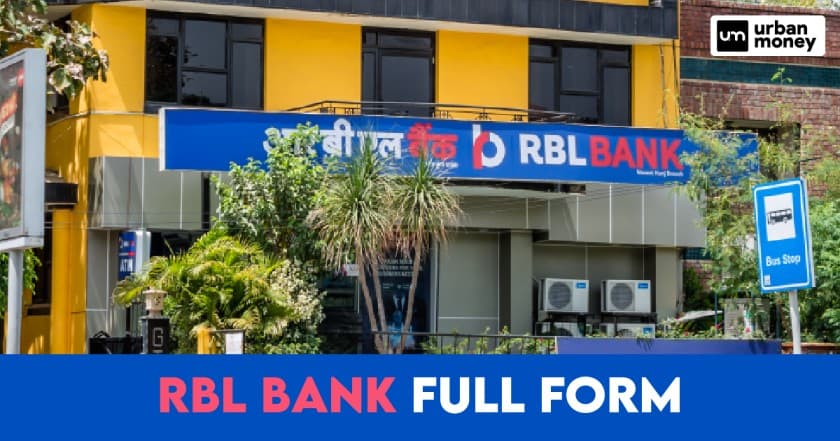 RBL full form is expanded as Ratnakar Bank Limited, a private sector bank located across India. Ratnakar Bank Limited, formerly known as Ratnakar Bank, has been in business since 1943. RBL Bank has been striving to provide its customers with an array of banking services with top-notch user experience. For the same, RBL Bank provides services across various vertices, including commercial banking, corporate banking, institutional banking, branch and business banking, growth and financial inclusion banking, treasury and financial market operations, and so on.
This guide aims to provide readers with information on RBL Bank, including RBL Bank's full form, RBL Bank history, products, services, and much more.
What is the Full Form of RBL?
The full form of RBL is Ratnakar Bank Limited. The bank was formerly called Ratnakar Bank, which was changed to Ratnakar Bank Limited. For convenience, the bank is commonly addressed as RBL Bank.
History of RBL Bank
RBL Bank, or Ratnakar Bank Limited, was incorporated in the year 1943 in the state of Maharashtra, India. The bank is a private-sector bank founded by Babgonda Bhujgonda Patil from Sangli and Gangappa Siddappa Chougule from Kolhapur. The earliest branches were located in the regions of Kolhapur and Sangli. This regional bank was initially launched mainly for small and medium enterprises. It was only in 1959 that the bank was given the title of a scheduled commercial bank. Later in 2010, the bank underwent a transformation in which the CEO and the managing director changed to Vishwavir Ahuja. Lastly, in 2014, the bank became Ratnakar Bank Limited from Ratnakar Bank. 
Service and Products of RBL Bank
RBL Bank has a wide range of products to cater to the needs of its customer base. Moreover, to improve the user experience, RBL Bank has spread its services to six vertices of banking. These are as follows. 
Corporate and institutional banking

Commercial banking

Branch and business banking

Retail investments

Growth and financial inclusion banking

Treasury and financial market operations
The products and services offered by RBL Bank are as follows. 
Accounts 

Fixed Deposits

Credit Cards 

Debit Cards 

Loans 

Insurance 

Investments

Demat

Convenience Banking

Forex Services.
RBL Bank's Subsidiaries
RBL Bank has a couple of subsidiaries. They are as follows. 
RBL FinServe Limited - This subsidiary was founded in 2005 and was formerly known as Swadhaar FinServe Financial Private Limited. RBL FinServe Limited was incorporated to provide comprehensive banking facilities to people with lower household incomes. 

RBL Bank Limited Asset Management Arm - The asset management firm of RBL Bank, which facilitates investments. 
RBL Bank's Financial Overview
RBL is listed on National Stock Exchange and the Bombay Stock Exchange. With over 11 million customers, RBL Bank provides top-notch banking services with its 507 branches across 28 Indian states and union territories. Moreover, the bank is currently on an upward curve in terms of stock pricing. As of January 2, 2023, RBL Bank's stocks are priced at INR 181.40, a 1.11% increase. 
RBL Bank's Balance Sheet
RBL Bank's balance sheet from March 2021 to March 2022 is as provided below. 
BALANCE SHEET OF RBL BANK (in Rs. Cr.)
March 22
12 months
EQUITIES AND LIABILITIES
SHAREHOLDER'S FUNDS

Equity Share Capital

599.51

TOTAL SHARE CAPITAL

599.51

Revaluation Reserve

0.52

Reserves and Surplus

12,018.21

Total Reserves and Surplus

12,018.73

TOTAL SHAREHOLDERS FUNDS

12,618.25

Deposits

79,006.53

Borrowings

11,093.04

Other Liabilities and Provisions

3,490.76

TOTAL CAPITAL AND LIABILITIES

106,208.58

ASSETS

Cash and Balances with Reserve Bank of India

13,111.08

Balances with Banks Money at Call and Short Notice

4,436.62

Investments

22,274.35

Advances

60,021.81

Fixed Assets

548.1

Other Assets

5,816.62

TOTAL ASSETS

106,208.58

OTHER ADDITIONAL INFORMATION

Number of Branches

502

Number of Employees

9,005.00

Capital Adequacy Ratios (%)

16.82

KEY PERFORMANCE INDICATORS

Tier 1 (%)

16.21

Tier 2 (%)

0.62

ASSETS QUALITY

Gross NPA

2,728.39

Gross NPA (%)

4

Net NPA

806.56

Net NPA (%)

1.34

Net NPA To Advances (%)

1

CONTINGENT LIABILITIES, COMMITMENTS

Bills for Collection

3,224.45

Contingent Liabilities

65,299.31
RBL Bank's Annual Profit & Loss
RBL Bank's Annual Profit and Loss Account from March 2021 to March 2022 is as provided below.
PROFIT & LOSS ACCOUNT OF RBL BANK (in Rs. Cr.)
March 22
12 months
INCOME

Interest / Discount on Advances / Bills

6,316.88

Income from Investments

1,347.56

Interest on Balance with RBI and Other Inter-Bank funds

362.11

Others

149.24

TOTAL INTEREST EARNED

8,175.79

Other Income

2,340.53

TOTAL INCOME

10,516.32

EXPENDITURE

Interest Expended

4,149.05

Payments to and Provisions for Employees

1,001.54

Depreciation

163.99

Operating Expenses (excludes Employee Cost & Depreciation)

2,456.43

TOTAL OPERATING EXPENSES

3,621.96

Provision Towards Income Tax

151.31

Provision Towards Deferred Tax

-191.66

Other Provisions and Contingencies

2,860.40

TOTAL PROVISIONS AND CONTINGENCIES

2,820.05

TOTAL EXPENDITURE

10,591.05

NET PROFIT / LOSS FOR THE YEAR

-74.74

NET PROFIT / LOSS AFTER EI & PRIOR YEAR ITEMS

-74.74

Profit / Loss Brought Forward

46.32

TOTAL PROFIT / LOSS AVAILABLE FOR APPROPRIATIONS

-28.42

APPROPRIATIONS

Transfer To / From Statutory Reserve

0

Transfer To / From Capital Reserve

43

Transfer To / From Revenue And Other Reserves

0

Dividend and Dividend Tax for The Previous Year

0

Equity Share Dividend

0.00

Tax On Dividend

0

Balance Carried Over To Balance Sheet

-35.42

TOTAL APPROPRIATIONS

-28.42

OTHER INFORMATION
EARNINGS PER SHARE

Basic EPS (Rs.)

-1.25

Diluted EPS (Rs.)

-1.25

DIVIDEND PERCENTAGE

Equity Dividend Rate (%)

0
Samco's Ratings for RBL Bank 
As per Samco's ratings, RBL Bank shares are not an ideal option for investors. Two significant points highlight this. Firstly, the company's returns on equity have been noted to provide a lower rate of return than the cost of capital. This means that, in the long term, the value of an investment will depreciate. Secondly, the stocks are assessed to be highly volatile, and the risk factor is high. 
Frequently Asked Questions About: RBL Bank Full Form
Is RBL a government bank?
RBL Bank is a private-sector commercial bank.
Who is the owner of RBL Bank?
Babgonda Bhujgonda Patil and Gangappa Siddappa Chougule founded RBL Bank. However, the CEO and managing director of the bank changed to Vishwavir Ahuja in 2010, whereas the current CEO is R Subramaniakumar. 
Which bank merged with RBL Bank?
There are no mergers with RBL Bank. However, the institution's name changed from Ratnakar Bank to Ratnakar Bank Limited or RBL.
Where is the headquarter of RBL Bank?
RBL Bank is headquartered in Mumbai, Maharashtra, India.