How To Link Aadhar Card To Lic Policy
How to Link Aadhaar with LIC Policy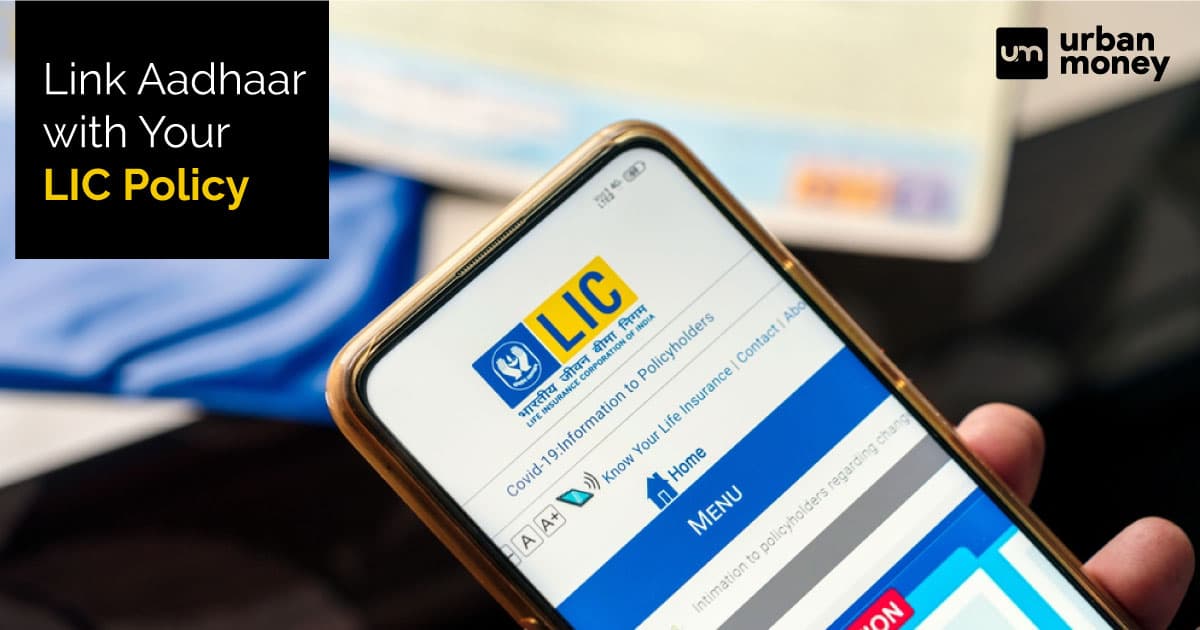 LIC (Life Insurance Corporation) is India's oldest and largest insurance company. Established on September 1, 1956, the company has added uncountable accolades to its name and proved why it's the pioneer of insurance products. LIC offers many products, including Insurance, Pension, Micro Insurance, Unit Linked, Health, and Withdrawn Plans. Each plan encompasses various schemes designed to fulfil customers' unique financial needs. 
There has been a huge debate on whether Aadhar link to LIC Policy should be made compulsory or not. While it is not obligatory, people must link their Aadhaar to their LIC to avail of various advantages. 
This piece showcases the importance of the Aadhar link to LIC policy through online and offline modes. 
How to Link Your LIC Policies with Your Aadhaar?
The LIC Adhaar link process is simple and can be done online and offline. However, you must note that the process isn't mandatory. Given below is the process for LIC policy linking with Aadhar. 
Aadhaar and LIC Policy Linking via Online Mode
The steps to LIC policy Aadhaar Linking Online are as follows:
Step 1: Navigate to the official portal of Life Insurance Corporation.
Step 2: Find the "LIC Aadhaar Link" option and click on it.
Step 3: A new page with the necessary instructions will open up. Read it carefully and click on the 'Proceed' option. 
Step 4: The application form will be displayed. Fill up all the required details such as your name, date of birth, gender, father's name, address, PAN number, email ID, Aadhaar number, and LIC policy number. 
Ensure that all the information is correct and that there is no misrepresentation or suppression of facts.
Step 5: Check the 'Disclaimer' box at the form's end.
Step 6: Enter the Captcha code and click on the 'Get OTP' option. 
Step 7: The system will generate an OTP and send it to your mobile number registered with your Aadhaar card.
Step 8: Provide the OTP in the required field and click on the 'Submit' button.
Step 9: The data furnished by you will be forwarded to the CIDR (Central Identities Data Repository) of UIDAI (Unique Identification Authority of India). The UIDAI will prompt the verification process. 
Step 10: Once the UIDAI has verified your application and finds the data authentic, the process of LIC online Aadhar linking will eventually be completed. 
Step 11: You will obtain a confirmation message on your registered email ID and mobile number on successful linking. 
LIC Policy and Aadhaar Number Linking via Offline Method
Those who prefer to work offline can follow the steps for linking Aadhaar to LIC policy through the offline mode as described below:
Step 1: Visit the official portal of LIC and download the Aadhaar/PAN mandate form. Or you can also visit the LIC branch directly and ask for the form.
Step 2: Ensure that you carry your Aadhaar, PAN/Form 60, and all your LIC policy documents, as they are necessary during the verification process. 
Step 3: Fill out the Aadhaar linking form accurately with the particulars of your Aadhaar, PAN, and other essential details. Make sure that you haven't misrepresented or suppressed any personal details. 
Step 4: Once you have filled out the form, submit it to the nearest LIC branch along with the duly self-attested copies of your document proofs such as PAN and Aadhaar. Also, keep your original documents of these proofs handy. They might want it for cross-verification. 
Step 5: Once the UIDAI has verified the submitted documents, linking Aadhar to the LIC policy will be successfully done. 
Step 6: The same status will be confirmed through a confirmation message sent to your registered email ID and phone number. 
LIC Aadhaar Link for Multiple LIC Policies
If you have various LIC policies in your name, the company offers the provision for linking all of them simultaneously. While linking policies online, you need to provide the policy number of every LIC policy you hold, whether lapsed or in force. Then, furnish your Aadhaar details such as number, biometric, and demographic details to complete the process. 
However, if you are linking offline, the mandate form will let you enter the policy number of various LIC policies in the same form. Therefore, you won't have to fill and submit different for each LIC policy as a single form would complete the linking procedure. 
The confirmation of the same will be sent to your registered mobile number and email ID. 
Advantages of LIC Aadhar link
While it is not an obligatory procedure, linking Aadhaar with LIC comes with various advantages, as follows:
It's highly beneficial to link your Aadhaar with your LIC as it helps organisations to avoid fraudulent activities as they may authenticate a registered user by their Aadhaar number. 

By linking Aadhaar, registered users can establish policies that may prove convenient. 

One of the major benefits of it is that linking Aadhaar with LIC policy mitigates the risk of money laundering. Moreover, the company gets access to monitor your transactions efficiently. 
Hence, it is apparent that linking Aadhaar with LIC can improve the financial condition of the policyholder by reducing the chance of unethical activities such as money laundering, etc. 
Things to Remember When Linking LIC Policies with Aadhaar
Before you proceed to the LIC policy Aadhaar linking process, you must keep the following points in mind:
You must keep a few documents such as Aadhaar, PAN, and LIC insurance policy handy. You may be asked to produce them anytime during the process.

You must mention your mobile number that is registered with UIDAI. If your mobile number is not registered with your Aadhaar, you must get it done first to obtain all the online facilities related to your Aadhaar. 

Double-check the information you filled in the application form to avoid any issues with linking. 

After placing the request for

LIC linking with an Aadhar card,

you will receive a successful request submission message on your mobile and email ID. 

LIC examine the information provided by you with UIDAI. If the authority responds affirmatively, the Aadhaar and PAN are linked with your LIC policies. 

You will know when your Aadhaar has been linked with your LIC through a confirmation message on your email and phone. 
Conclusion
While linking your Aadhaar Card with your LIC policy might be essential, it isn't mandatory. You can skip it if you want. However, it is recommended to indulge in the process as it helps avoid fraudulent activities, reduces money laundering, and keeps the customers' money safe. You can link your Aadhaar with your LIC policy online and offline by following the steps mentioned above. 
However, before you step into the process, you must keep a few mandatory documents such as the Aadhaar Card, PAN, and LIC policies handy. You may be asked to produce these documents anytime during the form verification. Once your policy and Aadhaar are linked, you will receive a confirmation message on your registered mobile number and email ID.
FAQ's About LIC Aadhaar Link
Can I link multiple LIC policies with my Aadhaar?
In the offline linking method, the mandate form offers you an option to enter multiple policy numbers in a single form. So, yes, you can link multiple LIC policies with your Aadhaar. 
How much time will it take to get the confirmation message?
Once UIDAI has completed the verification process, you will receive a message in your email or SMS within a few working days.
Whose Aadhaar should be linked in case of joint policyholders?
In the case of joint policyholders, it should be enough to link the Aadhaar number of the first policyholder.
How would I know if my policy has been linked?
You will receive a confirmation email and message on your registered email and mobile number.
Should the Aadhaar card be linked to the policy?
It's not mandatory to link your policy with the Aadhaar. However, you may benefit from linking your LIC policy with your Aadhaar number. 
What details must be filled in when filling out the Aadhar linking form?
You must furnish your 12-digit Aadhaar number, demographic information and biometric details.
The mobile number registered with Aadhar and with my LIC policy is different. What should I do?
You must update your mobile number with your Aadhaar number first and then link it with your LIC policy.