SBI Account Number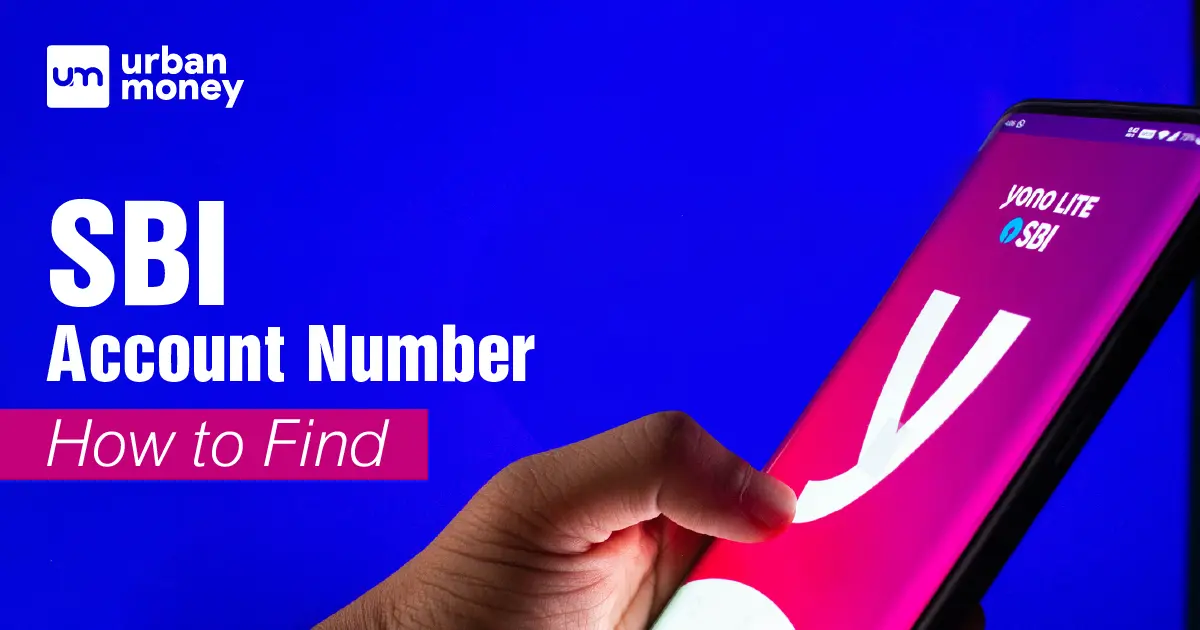 How often has it happened that someone has asked you immediately for your SBI account number and you just cannot recall it? We all have those friends and family members who can just memorise their account numbers at the drop of a hat! Well, they are a different breed. For the rest of us, this blog discusses how and where to look for your SBI bank account number when you get asked for it. 
To accept payments, you need to inform the other party of your bank account number. To fill in financial details in important forms, and to file tax returns, you will need your account number. And to find the account number, you need us! We bring a complete step-by-step guide using which you can access your SBI Account number in no time.
The Bank With the Longest Account Number
SBI is among the country's most trusted and popular public sector banks. More than 200 years old, SBI today serves over 48 crore customers with full personal and corporate banking experience. The SBI bank account number can be understood as the unique identity which helps the bank differentiate between millions of its customers. Each customer is offered an account number unique to them. An SBI account number is the key to unlocking all the financial services and products extended by the bank.  
SBI generally offers an 11-digit long account number. It also has the longest account number in the Indian Banking system, going up to 17 digits. In the 17-digit SBI account number, six zeroes are prefixed before the regular account number. SBI account numbers usually start with the following pattern- 1,2,3,4,5,6,56,66,53,63,57 or 67. The SBI account number established the bank account in the bank's database, providing an avenue for recording the transactions.
How to Find Your SBI Account Number?
Broadly speaking, there are offline and online ways of knowing an SBI Account number. Both these ways offer options which are not just simple to follow but also quick to give the desired information. Read ahead to know in-depth about measures like branch visits, mobile banking, ATM transactions and many others that can instantly intimate your SBI account number to you.
Offline Methods to Find SBI Account Numbers
Offline methods imply steps which can be followed without using any Internet or digital services to gain one's account number. A number of convenient and simple offline measures can help a user readily access their SBI account number. The prominent offline methods are listed below.
Welcome Kit:
The first contact a customer has with their bank account is through the welcome kit. You can check out your SBI welcome letter to find your account number mentioned there. Along with the account number, other details ranging from IFSC code to ATM PIN are categorically mentioned in the letter.
Visit the Nearest SBI Branch
When in doubt, go straight to the source. Visit your nearest State Bank of India branch, and the friendly staff will assist you in retrieving your account number. Remember to carry your identification documents for a smooth process.
Check Your Passbook
Your passbook is a treasure trove of information. Flip through its pages, and you're likely to find your account number along with transaction details. It's a classic method that still proves effective.
Contact SBI Customer Care
SBI's customer care is just a call away. Dial their toll-free number, authenticate yourself, and inquire about your account number. The customer care executives are trained to assist you promptly and securely.
Get it From ATM Card
Your SBI ATM card isn't just for withdrawing cash. Use it to check your account number at any SBI ATM. Simply insert your card, enter your PIN, and select the "Balance Inquiry" option to view your account details.
Explore Your Cheque Book
If you have a cheque book, your account number is right there on the front. Each cheque is a document of financial transactions, and your account number is a crucial part of this information.
Utilize SBI's Interactive Voice Response (IVR) System
Give SBI's IVR system a call, and you'll be guided through a series of prompts to access your account information. Follow the instructions carefully, and you'll have your account number in no time.
Ask Your Local SBI Agent
SBI has a vast network of agents in various communities. Approach your local SBI agent, provide the necessary identification, and request assistance in finding your account number. They are well-versed in handling such queries.
Online Methods to Find Your SBI Account Number
Online methods make use of the Internet and mobile banking services to cater to a customer's needs. Be sure to have your login credentials handy with you before using these services. Check out some of the popular online methods to access your SBI account number.
Mobile Application: SBI's official mobile applications, YONO and YONO Lite can be used to access one's account details. After logging in to the app using your username and password, you can access your account number from the '

My Account'

section. In case the app blurs the account number, just tap on the eye icon next to it to make it fully visible.

Internet Application: Visit 'onlinesbi.sbi' to access the bank's official website. Click on 'Login' and enter your username, password and the captcha text. Once logged in, you can easily access your SBI account number from the '

My Accounts & Profile

' menu using the '

Account Summary

' option.

Bank Statement: Using one's registered email account, mobile and Internet banking credentials, the SBI account number can be easily accessed. The user's account number is mentioned on the PDF versions of the e-statement which can be downloaded and stored in one's device.  
State Bank of India's IFSC Code
IFSC is short for Indian Financial System Code. The code is designed to support electronic fund transfers in India on major platforms like NEFT, RTGS and IMPS. The 11-digit alpha-numeric code distinctly identifies each bank branch. Of the 11 digits, the first four alphabets highlight the bank's name, the fifth digit is always a 'zero' and the last six digits represent the particular branch. 
For example, in the IFSC Code 'SBIN0000691':
The first four alphabets i.e. SBIN represent The State Bank of India,
The fifth digit is 0 and,
The last six digits i.e. 000691 represent the New Delhi Main Branch. 
The IFSC code can be found on an SBI cheque or the first page of your SBI passbook. In case you don't have access to them, you can easily use the RBI, SBI and other online IFSC finders. 
MICR Code for SBI Accounts
Have you ever noticed the black bars and numeric codes printed right at the bottom of your SBI cheque? That's not the account number. That's not the IFSC code. Then what is it? It is the Magnetic Ink Character Recognition (MICR) code. The first 6 digits represent the cheque number while the next 9 digits represent the MICR code of your bank.
The 9-digit long MICR code is used for bank and branch identification. Of the 9 digits, the first 3 represent the city, the next 3 represent the bank and the last 3 represent the particular bank branch. Apart from identifying the bank branch, MICR is also used to verify the authenticity of cheques and minimise cheque fraud. Colloquially pronounced as mick-er, these are made of special inks which have high magnetic field sensitivity. 
MICR as well as IFSC Code play an important role in facilitating electronic payments in India. 
Conclusion
This is the age of electronic and digital banking. To carry out transactions and access banking services, an account holder needs an SBI account number. With comprehensive knowledge of their account number, IFSC code and MICR code, anyone can smoothly avail of the full spectrum of banking services.
More Resources for State Bank of India
FAQ About SBI Account Number
Where can I look for my SBI account number?
The SBI account number can be obtained through the various offline and online channels established by the bank.
Is the SBI account number 11 or 17 digits long?
Both. SBI usually offers an 11-digit account number. But in some cases, a 17-digit account number with six zeroes prefixed before the rest of the number is also issued.
Does SBI offer a 14-digit account number?
No, SBI offers account numbers with either 11 or 17 digits.
Can I know my SBI account number using my registered mobile number?
Using SBI Quick for missed call banking and toll-free numbers to access customer care, one can access their account details even without an active Internet connection.