CSB Bank Net Banking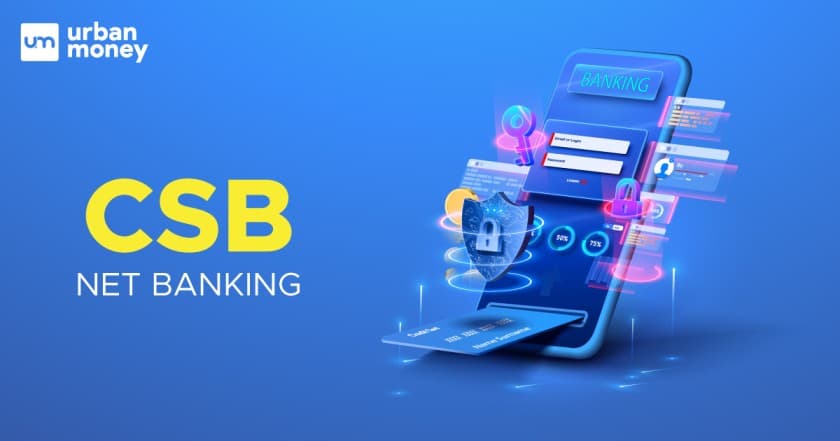 CSB is the oldest private sector bank in Kerala and was established almost a century ago in 1920 as CSB Bank Limited. The Catholic Syrian Bank Limited had a modest beginning since its inception. Over time, the bank has developed steadily throughout the course of this century, excellently adjusting to the significant social, political, and economic changes that have occurred.
Although the bank has a lengthy history of operation as a traditional bank, it is currently concentrating on measures to change into a full-service modern bank. To do this, the bank recently launched a series of efforts to improve its business focus through advanced process, technology, and human resource upgrades.
CSB now offers banking services to a broad client base of more than 1.5 million customers. The bank has developed customised banking solutions to cater to the unique banking demands of different societal groups. The goal is to present the relevant offer to the right consumer at the right time. SME Banking, Retail Banking, Corporate Banking, and Treasury Operations are the four main business segments on which the bank focuses. 
To make these services more accessible to the customers, the bank offers net banking services from the comfort of home. Now you can carry out numerous banking tasks from your phone or laptop by entering your account credentials. 
CSB Internet Banking
CSB Bank net banking provides convenience and several banking services at your fingertips. With CSB Internet Banking, you get a range of services with high security, making banking simple and seamless. When you register yourself with CSB Net Banking, you can 
Check your account balance and download your bank account statement

Register for Mobile Banking

Pay utility bills 

Set autopayments for postpaid bills

Apply for a new chequebook and track the delivery status

Request debit card

Block your debit card 

Linking of self accounts

Open Term Deposits account
These are just a few services you get from CSB internet banking. Additionally, these services are categorised within retail banking, corporate banking, and SME banking to make everything easily accessible. 
Characteristics of CSB Internet Banking
CSB is happy to provide a Net Banking Platform packed with several features and a user-friendly interface. It has been developed with user convenience and security in mind.
To keep track of any account-related activities, the account summary is displayed.

Request debit card and chequebook

To obtain the account details by logging into the account.

It enables a user to keep track of the activities on their account.

It is a platform where customers can access various bank services, including loans, recurring deposits, fixed deposits, and other products.

Any laptop or smartphone with a working internet connection can be used to access any service. 

It is a simple and easy-to-use interface that helps you save time and money.

With access to account information, the account holder can define financial objectives and create a strategy to achieve them.

You get the option to update both your Aadhaar and PAN card information.

It eases the payments of various utilities like electricity, water and landline bills.

One can make transactions online through modes like IMPS, NEFT and RTGS.
How to Make a CSB Online Banking Registration?
To get registered with CSB net banking, follow the depicted steps:
Visit the official portal of CSB.

Look for the 'Online Services' section in the top right corner of the homepage. 

Click on it, and a drop-down will appear. From the available options, click on login.

From the drop-down, choose the type of internet banking, i.e. retail, SME or net corporate banking, and you will be redirected to another page. 

Now, click on the 'Click Here to Register.' This option is meant for new users who have not yet registered for CSB net banking.

You can either register online or download the registration form that must be submitted to the bank branch. 

For online registration, click on the 'Self User Registration' option. 

Go through the instructions, and accept the terms and conditions. Then click on 'Submit.'

Enter the details asked, such as account number, mobile number, DOB, etc. 

After providing the details, set your password.
After this, you will be successfully registered with CSB Net Banking. Now, you can use the credentials to log in and access any of the offered services.
CSB Net Banking Login
To perform CSB net banking login, you must be a registered user. After registering, you just need to follow the depicted steps to log in to your account and access an array of banking services the CSB bank offers.
Visit the official CSB portal and click on 'Online Services 

Choose the type of internet banking to move forward with the process.

 You will be redirected to the login page. 

Click on the 'Click Here to Login' option for registered users in the top right corner. 

Enter your 'User ID' in the given text area, followed by entering your password. 
How to Reset the Password of CSB Internet Banking? 
There are possibilities that you will forget the password. However, you can easily reset it online through the official portal. Here's how to reset your password with utmost ease. 
Visit the official CSB portal and click on 'Online Services 

Choose the type of internet banking to move forward with the process.

 You will be redirected to the login page. 

Click on the 'Click Here to Login' option for registered users in the top right corner. 

Below the user ID section, you will see 'In case you have forgotten your User ID, Please here to retrieve.'

You will be redirected to the 'Forget Password' form.

Complete the process by following the prompts that appear on the screen and clicking on 'Submit.'
CSB Mobile Banking
CSB offers an array of services to offer the utmost customer satisfaction, and one such prominent service is mobile banking. Customers can access the entire range of services, specifically transactions, through mobile. To enjoy the benefits of mobile banking services, you have to get done with the registration. With CSB mobile banking, you can access mobile payments, money transfers, etc.  
How to Register for CSB Mobile Banking?
Follow the given instructions to register for CSB mobile banking:
Download the application through Play Store or Apple Store.

Once downloaded, install the application through your registered mobile number.

The application will display your account on the screen. Confirm the same to move further with the process.

After verifying your details, you will be a registered CSB mobile banking user.
After this, you must enter a pin by entering your debit card details in the application. 
CSB Mobile Banking Login
You can efficiently perform CSB mobile banking login; you just have to launch the app on your smartphone. To access the services, enter the pin generated at the application download time.
Frequently Asked Questions (FAQs)
What is the CSB Bank customer service phone number?
To reach out to the CSB bank executives, call on 18002669090. Executives are readily available to resolve your queries.
What is the complete name of CSB Bank?
The complete name of the CSB Bank is Catholic Syrian Bank.
Is CSB Bank a public-sector institution?
No, the CSB bank is a private sector bank of India.
Is there a CSB online Banking application?
Yes, to offer the utmost customer satisfaction, CSB has launched their application. You can easily download the application on your mobile phone through the Play Store or Apple Store.