A Simplified Guide on Bank Privatisation in India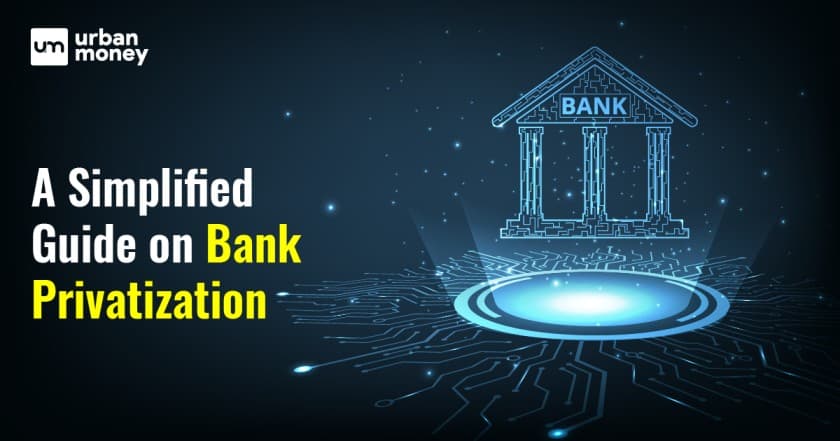 Bank Privatisation is the process of transferring ownership, assets, or businesses from the public to the private sector. The government no longer owns the corporation or business. Privatisation transfers ownership, assets, or businesses from the public to the private sector. In contrast to government-run businesses, privatisation increases a company's efficiency and objectivity.
What are Public Sector and Private Sector Banks?
| | |
| --- | --- |
| Public Sector Banks | Private Sector Banks |
| Banks with more than 50% ownership by the government are referred to as public sector banks (PSBs). | Banks classified as private sector banks are those whose equity is owned mainly by private persons or businesses. |
| Additionally, because public sector banks are owned by the government and are subject to government regulation regarding financial standards, most depositors feel that their money is safer in these institutions. | These banks can develop their autonomous financial strategy for the consumers even though they must adhere to the rules set forth by the country's central bank. |
| As a result, most public sector banks have a sizable clientele. | |
| The Indian Government owns a majority stake in this bank (more than 63%). | |
| For instance, the State Bank of India (SBI) is India's biggest public sector bank. | |
Why is there a Need to Privatise Public Sector Banks?
Some significant issues that bank privatisation can resolve are listed below:
Non-Performing Assets (NPA)
Loans the borrower does not repay the bank are known as non-performing assets (NPAs), and large levels of NPAs reduce a bank's profitability.

Additionally, most PSBs need help to keep up a capital adequacy ratio.

The RBI had to impose restrictions on the regular operation of numerous PSBs; this is known as placing the PSBs under Prompt Corrective Action (PCA); and forcing the PSBs to raise their financial performance criteria before being permitted to resume normal banking operations.
Branches in Rural Areas Incurring Losses
Due to high administrative costs and the widespread usage of the barter system in most rural areas of India, most rural branches are operating at a loss.
Bureaucratisation
Red tape, lengthy delays, a lack of initiative, and a tendency to put off making decisions have all interfered with banks' ability to operate efficiently.
Government's Financial Burden
The government must sell PSBs to the private sector rather than spend taxpayer money on recapitalisation.

This would ensure that PSBs become more effective and profitable businesses under private ownership while lessening the government's financial load.

The government intends to privatise two PSBs in the Union Budget 2021–22.
Advantages Bank Privatisation
Numerous organisations in India have surveyed and discovered that bank privatisation will have largely favourable results. It prompted the Indian government to consider privatising all of the banks. Let's examine why the Indian government must now privatise its banks:
It has been discovered that private-sector banks are more advanced and operate more effectively than public-sector banks.

Foreign investors choose private sector banks over public sector banks when making investments.

Banks in the private sector are considerably stricter regarding lending and fraud.

Generally speaking, public sector banks are less competitive than private sector banks.

Private sector banks are obedient and quite serious towards their work and responsibility, which needs to be improved in most Public sector banks.

The private sector banks follow the concept of lowest risk.

Privatisation will also help to reduce the burden on the Government of India.
Disadvantages of Bank Privatisation
Private sector banks are indeed quite effective, but they occasionally fail. Bank privatisation results in several adverse circumstances. Among them are:
The middle class and the poor will suffer as the privatised banks concentrate on increasing their profit.

Every organisation, whether in the public or private sector, has structural problems. A private sector bank does not necessarily have to never engage in fraud.

Currently, most Indians place their trust in public sector banks rather than placing their savings in private banks.

Public sector banks typically focus on social welfare, whereas private sector banks have profit as their primary goal.

Numerous government initiatives, such as the "Jan-Dhan Yojna" and the "Pension Yojna," only functioned adequately and were successful because they were implemented in Public Sector Banks.

The excessive use of nepotism, which would impact banking services, is another drawback of privatization.
List Of Govt Banks Likely To Be Privatised In India
There are some Govt. Banks that are eligible and likely to be privatised in India. Those banks include the following. 
UCO Bank

Indian Overseas Bank

Central Bank

Bank of Maharashtra

Punjab and Sind Bank

Bank of India
Conclusion
Banks are essential to the expansion of the economy. In India, the economy and its stakeholders have been ignored by the banking system, which is dominated by public sector banks (PSBs). Despite numerous policy changes over the previous ten years, PSB's underperformance has persisted. Private banks, meanwhile, have significantly increased their performance and market share. Although under this new system, the State Bank of India (SBI) stay under Government control for the time being due to its greater performance and adherence to the development view of the PSBs, overall, privatisation of banks is a vital step as this may help strengthen the banks performing well, while on the other hand, it may assist underperforming banks in performing better due to bank privatisation.
Frequently Asked Questions (FAQs)
Is privatisation good for banks?
Better customer service will be possible with the privatisation of banks. Additionally, it contributes to the growth and the economy. One could argue that privatising Indian banks will eliminate irregularities, bring punctuality, and foster service accountability.
Is privatisation good for shareholders?
Since the investors taking the company private would often give a premium above the share price's current market value, privatisation can benefit current public shareholders.
What happens if banks are privatised?
There is an equal number of pros and cons of bank privatisation. However, the pros might outweigh the cons.
What is the meaning of privatisation in simple words?
Moving a business or industry from the public to the private sector is known as privatisation. The area of the economy controlled by the government is known as the public sector.
What is an example of privatisation?
The two significant examples of privatisation are:
Privatisation of Bharat Aluminium Company in 2005

Privatisation of Delhi and Mumbai airports in 2006