You must have often come across a financial term called "CIBIL Score". But, what is it, and why is it important? In this blog, we'll briefly discuss what a CIBIL Score is, what makes it so crucial, and how can you check your cibil score by PAN Card!
Lenders consider your CIBIL score highly when assessing your loan application. Therefore, it's crucial to comprehend how the score is determined. A proprietary algorithm determines your CIBIL score; however, the essential components of the score composition are based on a person's loan payment history. The evaluation of this score, its basic elements, and how to do a cibil score check free online by PAN number is what this log below will help you with.
What is CIBIL Score?
CIBIL score is a three-digit numeric summary of your credit history. The credit history is derived from the information in the "Accounts" and "Enquiries" sections of your CIBIL report. The factors to which CIBIL score is proportional include but are not limited to your loan or credit card accounts, their payment status, and the number of days past due on outstanding balances. All these components are used to calculate your CIBIL score, a three-digit numerical summary of your credit history.
Based on the information provided by lenders about your borrowing and repayment history, the score represents your creditworthiness. The higher your CIBIL score, which runs from 300 to 900, the greater your chances of accepting your loan application. Clients with a CIBIL score above 750 get approved for 79 percent of loans.
| | |
| --- | --- |
| CIBIL Score Range | Rating |
| 300-500 | Poor |
| 550-650 | Average |
| 650-750 | Good |
| 750-900 | Excellent |
Steps to Check CIBIL Score Using PAN Number
Since your PAN is linked with your financial accounts and tax payments, it helps CIBIL aggregate your data quickly. You can check your CIBIL score by PAN Card, free of cost, once a year or multiple times by paying the required fee. Here are the steps you should follow to check your CIBIL score using your PAN card.
To check your CIBIL score by PAN Card, you need to follow these steps:
Access the CIBIL portal.
Get your CIBIL score can be accessed by clicking the button in the top right corner of the screen.
Select one of the recurring payment options.
Fill in the required information: Your birthdate, phone number, and email address.
Make a login password that you will use.
Enter your PAN after choosing "Income Tax ID (PAN)" as your ID type. Continue to "verify your identity" and provide accurate answers to all questions.
Complete the steps under "Make Payment."
If this is a one-time need, avoid the subscriptions and go directly to your account.
Sign in to your account by entering your email address or OTP.
Fill in the form that appears with details.
When you submit the form, your CIBIL score will be shown on the dashboard.
Observe the following while you carry out this procedure:
Once a year, you can use PAN verification to verify your CIBIL score for free.
If you don't have a PAN card, you can still obtain your CIBIL score by providing your passport, voter ID, or driver's licence as proof of identity.
If there are errors, you can file a complaint online at CIBIL's website or by traditional mail.
How To Check CIBIL Score on the CIBIL Website
You can access your credit score on the CIBIL website for free or by choosing a membership plan. Once a year, you can view your most recent CIBIL Report using a free subscription. CIBIL offers paid programs to its users that, depending on their choice, provide access to several extra features. For accessing your CIBIL score online, all you need to do is follow the steps given below:
Step 1: Log in to the CIBIL website.
'Get your CIBIL Score' can be found in the top right corner of the CIBIL website at https://www.cibil.com.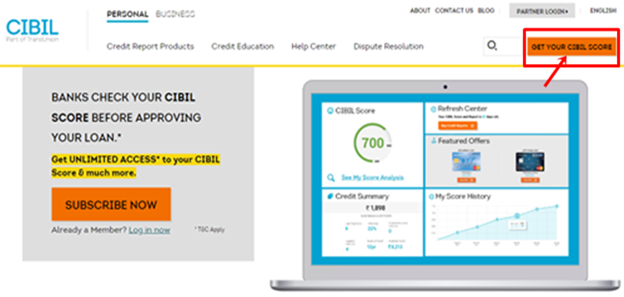 This will bring you to a page with subscription alternatives; scroll down to find the free option.
Step 2: Create your Account
Your name, which will serve as the username for this account, your password, an ID proof (such as a PAN card, passport number, voter ID, or Aadhaar), your date of birth, your pin code, and your phone number must all be entered here. After entering this information, click "Accept and continue."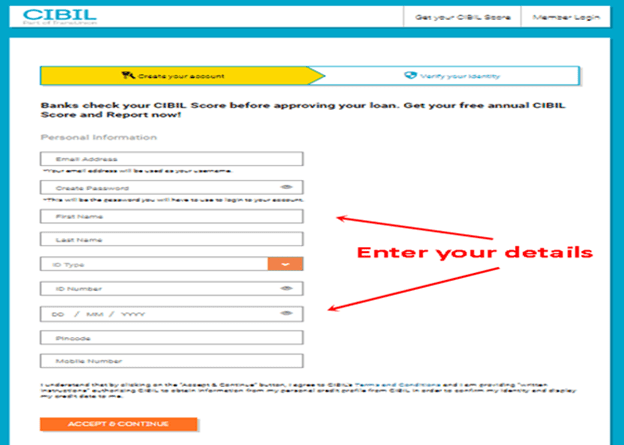 Step 3. Confirm your identity.
Verifying your identity is the next step. On the mobile number you entered in Step 2, you will receive a one-time password (OTP). After entering the OTP, press "Continue."
Step 4. Go to the dashboard.
A new window confirming your enrollment will open. Additionally, you'll receive an email verifying the same. To view your credit score, click "Go to dashboard."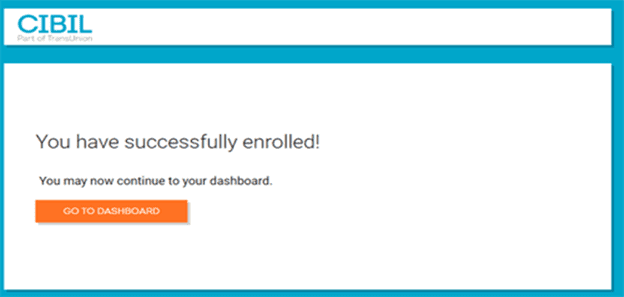 Step 5: View CIBIL Score
Your browser will now open myscore.cibil.com. Viewing their free CIBIL Score and CIBIL Report is available to subscribers here.
Visit https://myscore.cibil.com and click "Member Login" to view your CIBIL Score after creating an account. You must enter your email address and password to log in. You must subscribe to CIBIL, pay according to the plans' availability, and receive your report to obtain your CIBIL Score again during the same calendar year.
Why is PAN Card Important for Checking CIBIL Score?
A PAN, or Permanent Account Number, differs from a CIBIL Score. PAN is a unique alpha-numeric identifying number granted to Indian citizens, whereas CIBIL Score is your credit score. PAN is crucial since it serves as identification documentation and prevents tax avoidance. PAN is a singular number. Hence no two people may share the same PAN. A person is only permitted one Permanent Account Number per Section 139A(7) provisions. A replica with the same number is issued even if you misplace your PAN card.
Effects of PAN Change on CIBIL Score
Changing your pan or number won't affect your CIBIL score. Other information on your credit report includes your date of birth, banking activity, residential address, etc. Therefore, the CIBIL software will typically display a warning in your account if your PAN changes. It is encouraged that people should not alter their Permanent Account Number to raise their credit score. They have alternative options if they want to increase their CIBIL score.
Frequently Asked Questions (FAQs)
How is your credit score calculated?
Your credit is determined based on the information provided by lenders about your borrowing and repayment history; the score represents your credit worthiness. The higher your CIBIL score, which runs from 300 to 900, the greater are chances of your loan application being approved. Clients with a CIBIL score above 750 get approved for 79 per cent of loans.
How can a new PAN card application affect your CIBIL score?
Your CIBIL/Credit score won't be impacted by applying for a new PAN card because the PAN number shalll stay the same.
If I don't have a PAN card, can I still check CIBIL score?
Yes, you can check your CIBIL score even if you don't have a PAN card. You can use your passport or aadhar card to access your CIBIL score.
Can I see my credit score using my Aadhaar card?
Yes, you can see your credit score using your Aadhaar card.