Union Budget 2022 Highlights : Important Points & PDF Download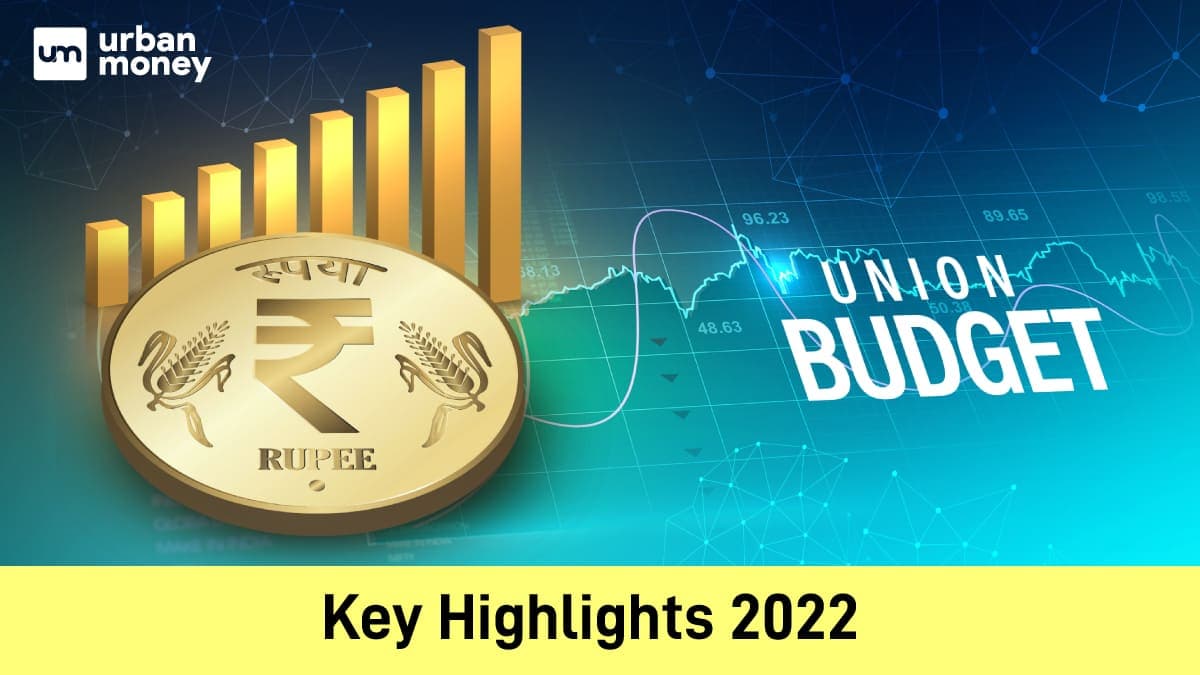 Nirmala Sitaraman announced the Union Budget 2022 on February 1, and the legislature recessed until 4:30 PM. Union Budget 2022-2023 unveiled as a boon for startups and MSMEs of the country. The tax exemptions and financial assistance offered through the new Union Budget turned the table around. Significant improvements were anticipated in the agricultural and healthcare sectors. One of the major budget 2022 highlights was the idea of introducing a digital rupee by utilizing blockchain technology and other similar technologies. The estimated GDP growth for 2021–2022 is 9.2%. In general, the budget has been beneficial for domestic manufacturing, infrastructure, and capital goods. As an Indian citizen, you must get acquainted with the highlights of budget 2022.
Let's dig deeper into the highlights to understand what has changed for this fiscal year.
What is the Union Budget?
The Union Budget is a summary of the government's projected revenue for the fiscal year, which runs from April 1 through March 31 of the following year. For state ministers to implement the budget before the start of the new fiscal year, the Ministry of Finance presents it in February.
According to Article 112 of the Indian Constitution, the Union Budget is a comprehensive financial statement that the government submits and details the anticipated expenses and revenue sources for the upcoming financial year. Additionally, it is separated into two groups: the Revenue Budget and the Capital Budget. The Revenue Budget lists both the expenditures and the revenue receipts. The Capital Budget, however, includes both payments and capital receipts.
The key focus of the Union Budget always remains on the crucial economic pillars. These are:
Health and Wellbeing
Financial Capital and Infrastructure
Inclusive Development
Strengthening Human Capital
Innovation together along with Research and Development
Regulations connected to the security market and direct and indirect taxes also have a role in the budget. We have by far produced 73 annual budgets since 1947. The ministry has also proposed 14 interim and four special budgets for that fiscal year.
Now that you know what the U/nion Budget is, when it is introduced and how it works, let's go through budget 2022 highlights. This will give you a clear idea about which pillars were given more focus while preparing the budget for 2022-2023.
Key Highlights of Union Budget FY 2022-2023
Every year, while preparing the Union Budget, the Ministry of Finances focuses on specific domains based on past performances and current scenarios. For better understanding, we must delve deep into each category to understand how the budget will benefit the nation and its citizens.
Here are budget 2022 highlights, which list the areas of key focus.
The key focus remained on PM Gati Shakti, Inclusive Development, Productivity Intensification, Sunrise Opportunities, Actions toward Climate Betterment, Energy Transition, and Investment Financing.
With investment intentions reaching INR 30 lakh crore, the response towards productivity-linked incentive programs has been immensely positive, specifically across 14 industries.
Governmental capital spending and investment are helping the economy recover. This budget will boost economic growth.
The state will be allowed to have a budget deficit of up to four percent of Gross Domestic Product (GDP) in 2022–2023. It is inclusive of expenditure and other significant numbers.
A fiscal deficit of four and a half percent of GDP is proposed for the financial year 2025–2026.
The projected budget deficit for 2022–2023 is 6.4% of GDP.
With the fiscal deficit for 2021–22 reconsidered to 6.9% of GDP,  the government has proposed state-specific 50-year interest-free loans beyond the previously authorized borrowing limits.
 After reviewing a summary of the highlights of budget 2022, here's a category-wise brief about the proposed budget.
Budget 2022 Highlights Related to Taxes
Following are the Union Budget 2022 income tax highlights, along with other taxes:
The government promises a consistent and dependable tax structure.
The Government will give taxpayers who have already submitted ITRs one chance to correct errors, but new returns must be filed within two years.
No income tax or surtax is deductible as business expenditure.
Transfers of virtual assets that exceed a particular threshold and gifts will be subject to a 1% TDS.
Surcharges on long-term capital gains are capped at 15%.
Transactions involving digital assets would be subject to a 30% tax by the government.
There are no deductions permitted when determining income, save from purchase expenditures.
 Losses are not deductible against other forms of income.
The recipient will be taxed on any cryptocurrency gifts they receive.
There is a new rule that permits taxpayers to file an updated return.
Highlights of Budget 2022 for Industry's Duties
The government has proposed to reduce import taxes levied on certain compounds.
For an additional year, the duty-free status, specifically over steel scrap, will be extended for MSMEs.
Stainless steel, flat products, and high steel bars are no longer subject to customs taxes.
Starting in October 2022, there will be an additional INR 2 per liter fee for unblended gasoline.
Sawn diamonds will not be subject to import duty, but at the same time, an import duty of 5% will be levied on cut and polished diamonds and other gemstones.
Key Budget Highlights In Employment (Jobs)
ECLGS (Emergency Credit Line Credit Scheme) was extended until 2023, expecting more than 60 lakh employment in the upcoming five years.
More steps towards creating jobs, as well as entrepreneurship possibilities by the Central and State Governments.
Plan to launch a digital ecosystem to enhance the skills and livelihood of the citizens.
This digital platform will work by providing online training for educating and upskilling the citizens.
API-based skills will be used to allow citizens to find appropriate job and career opportunities.
Budget Highlights of  Infrastructure and Manufacturing
Launch of a DESH stack e-Portal to improve digital infrastructure.
The transfer of strategic ownership of Air India is now finished.
Four contracts for multi-modal national parks will be awarded in FY23. The idea for the Gatishakti motorway will be explored in the upcoming fiscal year.
Ten PM Gati Shakti Terminals will be constructed during the following three financial years.
More focus on public investment for upgrading infrastructure during the upcoming years.
Steps Towards the Introduction of Digital Currency
Digital rupee based upon blockchain technology will be introduced in this financial year, i.e. 022–2023.
Establish a taxation system for virtual digital assets.
Other sources of income cannot be used to offset losses brought on by the sale of virtual-digital assets.
Income generated from virtual digital assets will be subject to a 30% tax.
Budget Highlights 2022 Related to Housing and City Planning
INR 48,000 crore has been allotted for the PM Awas Yojana.
80 lakh homes would be built for the beneficiaries of PM Awas Yojana in this financial year, i.e. 2022–2023.
Sixty thousand homes would be identified as beneficiaries in both rural and urban areas.
For 3.8 crore dwellings, INR 60,000 crore has been sanctioned to provide beneficiaries with tap water.
In 2022–2023, 80 lakh families will be selected to enjoy the benefits of the affordable housing scheme.
Highlights of Budget 2022 for the Agriculture Sector
In accordance with MSP procedures, the Government will spend INR 2.37 lakh billion on purchasing wheat and paddy in 2022–23, as the financial year is designated the International Year of Millets.
The new railway commodities would help small farmers and MSMEs.
A streamlined strategy to boost domestic oilseed production will be put forward, which will further result in lowering imports.
According to Kisan, drones for pesticide spraying, land records, and crop appraisal will lead to a technological upswing. So, the State Government will take all feasible measures to make it possible.
The government will promote chemical-free natural farming all around the nation to increase agricultural productivity and revenue.
NABARD would support establishing a co-investment fund to finance agricultural and rural startups. These startups are associated with the value chain for farm products.
Budget for Electric Vehicles
To enable Electric Vehicle charging stations designed for automobiles, a battery switching technique will be developed.
The efficiency of the EV ecosystem will be improved by encouraging the private sector to create innovative and sustainable business models for vehicle batteries and energy as a service.
 Budget 2022 Highlights For Education and Training
States should be urged to change the existing curricula for agricultural universities to cope with the needs associated with modern agriculture, i.e. natural, inexpensive, and organic farming.
The "one class, one TV channel" program of PM eVIDYA will expand from an initial twelve to two hundred TV channels.
All states will be able to provide children with additional education in their regional languages from Grade 1 to 12.
Children will be given access to 1-Class-1-TV Channel as supplemental education to compensate for the loss in formal education caused by Covid.
To launch the National Skill Qualification Framework (NSQF) to keep up with the industry's shifting needs.
Key Highlights of Budget 2022: Finance and Social
In the financial year 2022-23, states will be provided with financial support of INR 1 lakh crore. This fund will catalyze investment.
The Reserve Bank of India proposes the introduction of a Digital Rupee based on blockchain technology in this financial year.
More efforts to increase private capital across the infrastructure sector.
It was proposed to make the digital rupee usable by 2023.
Directly connecting all 1.5 lakh post offices across India to the main banking system. The idea is to put forward financial inclusion and account access through net banking services and mobile. This will make online cash transfers from the post office to bank accounts possible.
This inclusion will be highly beneficial for farmers as well as senior citizens who live across rural regions. It will provide the features of interoperability together with financial inclusion to the citizens.
Budget 2022 Highlights in Telecom Sector
A telecom spectrum auction is proposed to be organized in 2022 to prepare for the launch of 5G. The PLI program will create the 5G ecosystem to offer low-cost internet and mobile connection in remote and rural areas.
From the USO Fund, 5% will go toward technical advancement and research.
In association with the BharatNet PPP plan, contracts will be awarded in 2022–2023 for installing optical fiber in villages.
Special Announcements for Women and Children
Recognizing the importance of "Nari Shakti," three programs were developed to provide women and children with integrated development.
A total of 2 lakh Anganwadis will be updated to promote child health.
Announcement to Promote Business With Ease
To make business activities more approachable and easy, the government has already removed almost 75,000 compliances. Additionally, there is a repeal of 1,486 union statutes from 2022 onwards.
The nation is all set to launch EODB 2.0. It supports the second phase of the initiative - Ease of Doing Business.
Budget 2022 Highlights Related to Railways and Transportation
Trains with Vande Bharat will be manufactured over the following three years. For instance, there are 400 next-generation locomotives.
The plan to convert 2,000 kilometers of the existing rail network into indigenous technology has been initiated. The plan is named KAWACH, representing more capability and security.
The Ministry of Railway will be receiving INR 1,40,367.13 crore, an increase of Rs 20,311 crore above the revised figures for the previous fiscal year.
The length of the country's highway system will be enhanced by 25,000 kilometers in 2022–2023.
Highlights of Budget 2022 Approved For Climate
Climate and Net Zero emissions will be kept as the topmost priority by the government. Continuous climate change is one of the severe externalities and needs to be addressed in the best possible way.
The sanctioned funds will be used in developing and implementing projects promoting a decrease in carbon intensity.
Issuance of green sovereign bonds for supporting green infrastructure in financial year 23.
Four pilot projects are in the development phase for the betterment of climate.
The government will use the proceeds for funding the initiatives associated with public-sector initiatives.
What are the Expectations From the Union Budget 2022?
Before the reveal of the Union Budget 2022, people were expecting specific announcements. Experts were looking forward to changes in the income tax slab and associated rates. The healthcare industry expected a surge in priority considering the pandemic situation, along with a 3% GDP allocation—the development scheme for more than 700 districts for overall development. The highest expectation is bridging inequality along with the availability of job opportunities.
Budget 2022 PDFs