A User Guide to Aadhar Biometric Update
The Aadhaar card is the world's biggest biometric authentication system. It offers Indian residents validated proof of identification and address. As a result, all of the data on your Aadhar biometric update must be complete and correct. In this blog, we will delve into the complexities of the biometric update in Aadhaar such as locating and updating basic information, charging for a biometric update in Aadhaar card, and its importance.
What is Aadhaar Biometric Data?
When a person applies for an Aadhaar card, an enrollment centre registers their demographic information, such as name, address, and contact number. It also encompasses biometric information and stores it on the Aadhaar card.
Biometric update data in Aadhaar card consists of the following:
Fingerprints of all the ten fingers of an individual

Iris scan of both eyes
As a result, when applying for an Aadhar biometric update, a person should provide a collection of information such as proof of identity and address. To upgrade or achieve any Aadhaar-related data, one also needs to provide their fingerprints or iris scan for confirmation.
How to Locate and Update Aadhaar Biometric Information?
Upgrading biometric update in Aadhaar is a simple process that is done digitally. When it comes to Aadhaar fingerprint updates, you must go the offline path.
Locate an Aadhaar Enrollment Centre
You can quickly locate an Aadhaar enrollment centre in your vicinity through UIDAI's official website or the mAadhaar mobile application.
Via UIDAI's Official Website
Step 1:Go the official website of the UIDAI.
Step 2: Click on the 'My Aadhaar' category and select the 'Locate an Enrolment Center' option.

Step 3: On your screen, three options will be displayed, such as 'State', 'Postal code', and 'Search box'. You can choose the option as per choice.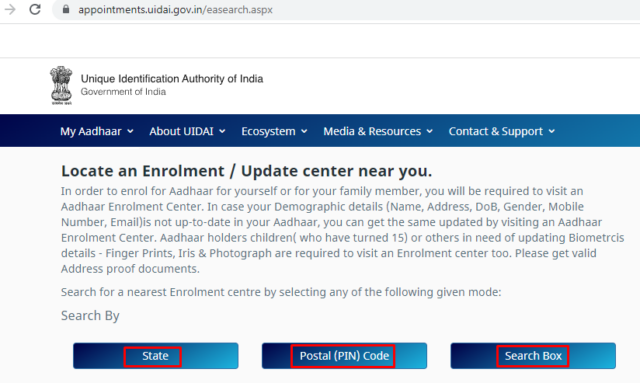 Step 4: Fill out your credentials and a list of the nearby Aadhaar enrollment centres will be displayed.   
Via mAadhaar Mobile Application
Step 1: Download the mAadhaar application from the Google Play Store.
Step 2: Open the app and choose the 'Enrollment Center' option. 
Step 3: Click on the 'Advanced Search' option to locate an enrollment centre list by entering your state, district, or pin code. 
Update Aadhaar Biometrics
Once your locating of an Aadhaar enrollment centre is successfully completed, then you can make a biometric update in Aadhaar card by following some of the steps:
Step 1: Visit the nearest Aadhaar enrollment centre and fill out the details like the Aadhaar biometric update.
Step 2: After filling out the details for the Aadhar biometric update, submit the form.  
Step 3: You can submit your fingerprints or get your iris scanned. When you request any of this biometric data, the verification process is finished.
Step 4: Once the verification phase is finished, your updated biometrics are saved. This phase then necessitates an iris scan.
Step 5: These biometrics are then secured and upgraded in the UIDAI dataset.
What is an Aadhar Biometric Update for a Child?
When enlisting a child in Aadhaar, the period is a major necessity. Children under the age of five, for example, get Baal Aadhaar, in which their biometric data is not registered. Rather, the biometrics of a child's Aadhaar card number are marked. However, when a child reaches the age of five, his/her biometrics must be updated. Moreover, when a child turns 15, the child must update their biometric information.
Furthermore, there is no such mandatory biometric update in Aadhaar for children aged 15 years or older. This upgrade follows the same steps as the adults. As a result, you can visit the nearby Aadhaar enrollment centre, fill out an Aadhaar biometric form, and provide your child's updated biometric information.
What are the Charges for Biometric Update in Aadhaar?
A fee is charged for a biometric update in Aadhaar. For example, an adult is charged INR 100, which includes GST. However, the information can be updated as many more times as desired, but a fee will be added to each upgrade.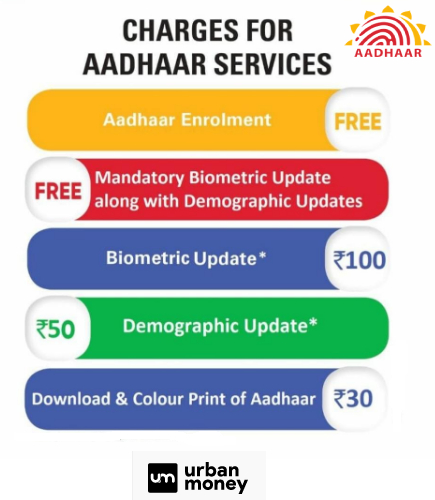 At the age of 5, for children, the first up-gradation is free of cost. Similarly, whenever a child turns 15, they do not have to pay a fee to have their biometrics renewed. It signifies that from the age of 5 years to 15 years, their details have not changed, like their residence address, date of birth, and so on. However, if this child wants to add biometric information again, a charge of INR 100 is required.
Importance of the Aadhaar Card Biometric
There are myriad reasons why biometric update in Aadhaar are essential. We are all aware that the Aadhaar card has been functioning as a vital biometric file since 2009. Each Aadhaar validation procedure employs the exact login details as the Aadhaar card. This is how it will be granted to each Indian citizen simultaneously.
It has helped reduce redundancy and fraud by centralising the country's database servers.

Other identity documents, such as PAN, driver's licence, and voter ID, are intended to be interconnected to an Aadhaar number. This will include a centralised database that will essentially eliminate duplicate data.

It enables the confirmation of a citizen's information for any validation purposes.

It is very efficient for candidates to be authenticated within seconds of beginning the process.

The owner of an Aadhaar cardholder can regulate and monitor their activities via a single ID card, ensuring that no unapproved events occur in their name.

It is the most user-friendly card restoration technique, requiring only an Aadhaar biometric or an eight-digit Aadhaar card number.
Wrapping Up
This article will help in understanding the procedure of upgrading your biometric update in Aadhaar. It will also explain how it varies from previous Aadhar upgrades. We hope you will find this helpful information when the time comes to get your biometrics accomplished.
FAQs About Biometric Update in Aadhaar Card
Is a biometric update necessary for Aadhar?
Yes, you can update your Aadhar card biometric online by visiting the official website of UIDAI. 
How can I get an Aadhar card biometric?
Visit the Aadhaar enrollment centre and ask for a form to update biometrics in Aadhaar. Authentication is required after you fill out and submit the Aadhaar biometric form.
What documents are required for a biometric update in Aadhar?
Proof of identity and proof of address documents are required for a biometric update in Aadhaar.