UIDAI: All-Inclusive Guidance of Unique Identification Authority of India
India's Unique Identification Authority (UIDAI) issues Aadhaar cards, an identification system by the Government of India. The Aadhaar card can be used for numerous things, including proof of identity and address confirmation. The UIDAI provides individuals with a secure digital identity. An Aadhaar card is also an essential tool in the fight against corrupt practises. Let us learn what UIDAI is, its background, facilities, and functionalities in this article.
Keynotes of UIDAI
| | |
| --- | --- |
| UIDAI Full Form: | Unique Identification Authority of India |
| Type of Service: | Government office |
| Managed By: | Government of India |
| Founded Date: | 28 January 2009 |
| Headquarter: | Delhi, India |
| First UID Number Was Issued: | 29 September 2010 |
What is UIDAI?
UIDAI is known as Unique Identification Authority of India. It is the municipal agency in charge of issuing unique identity cards to Indian citizens. The Government of India developed the organisation in January 2009. UIDAI aims to improve services and benefits for Indian citizens.
The Aadhaar card, which contains a unique 12-digit identity number, is issued by the UIDAI. The Aadhaar database comprises details of all individuals by relevant demographic data such as biometric data, photographs, and iris scans.
UIDAI online has established itself as the nation's biggest platform for delivering national proof of identification. 
Furthermore, the Aadhaar card is now one of the essential proofs for proving an individual's identity. People can even use their caste certificate to receive welfare payments and incentives.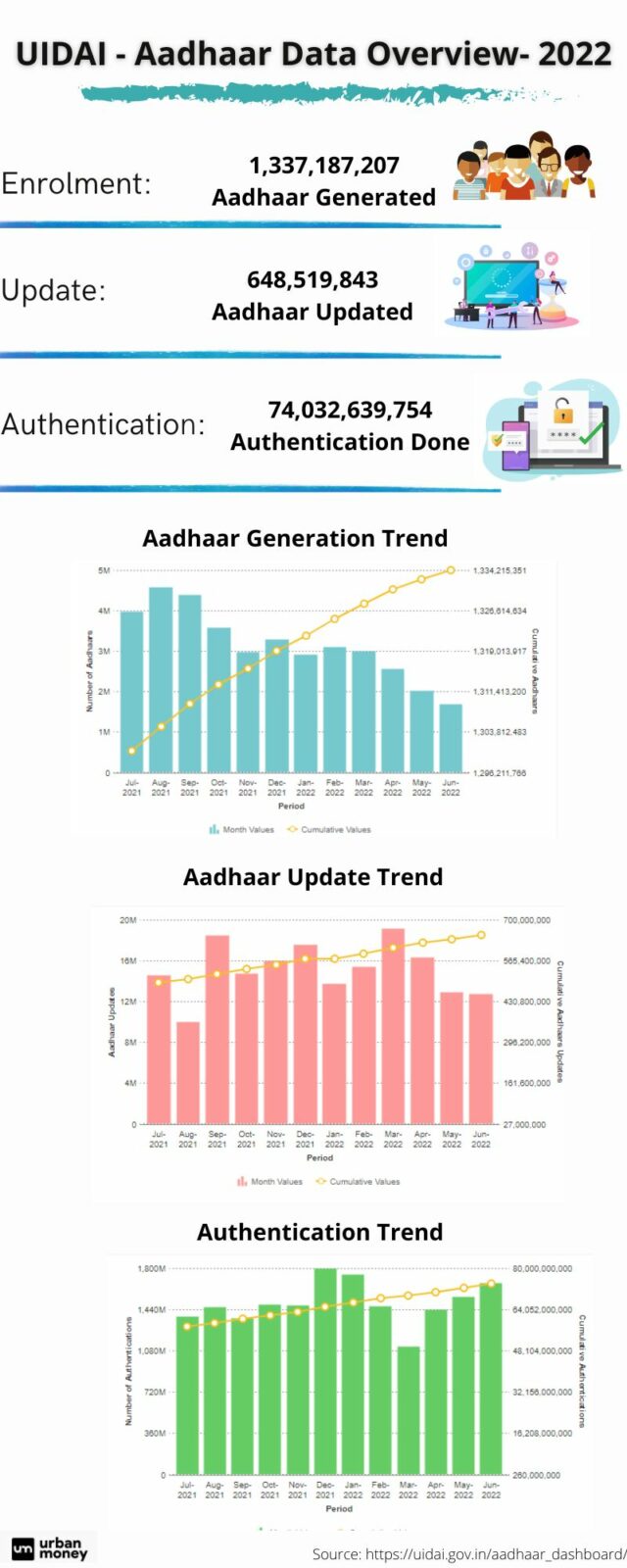 History of UIDAI
Nandan Nilekani was officially appointed to the UIDAI Aadhaar card when it was established in January 2009. In April 2010, Nilekani created the UIDAI symbol, and the identifier Aadhaar was popularised.
On February 7th, 2012, the Unique Identification Authority of India formally launched an online gateway. 
UIDAI has grown in popularity and national recognition shortly after the release of the online platform. The reason for this growth was that the Prime Minister of India at the moment, Dr. Manmohan Singh, had termed for an Aadhaar-based advantages plan. Initially, the strategy was initiated to track capital transactions and integrate a stable and secure system that included direct payment transactions to the user's savings account.
UIDAI created history in 2016 when the Legislative Council allowed the passing of the Aadhaar Act. It also takes effect shortly after the legislature passed the money bill in the same year. Later, the Aadhaar Act was incorporated into the Indian Gazette.
Today, 40,800,000,000 authentications for users have been done. According to the datasets, UIDAI has experienced remarkable growth. In India, Aadhaar remains the preferred proof of identity.
Services Offered by UIDAI
The UIDAI services that are used by Aadhaar number holders to perform Aadhaar authentication are as follows: 
Ensure Aadhaar Number:

Authority of Aadhaar is easily able to verify

whether the Aadhaar card is valid or not.
Authenticate Email/Contact Number:

This will enable service providers and Aadhaar number holders to verify if the Aadhaar number is valid and is not deactivated.

Lock/Unlock Biometrics:

Once the biometric is locked, then it can't be used by anyone for authentication. Thus, you must ensure that the biometric verification is performed properly.

Aadhaar Card and Bank Account Linking:

Aadhaar owners can confirm to see if their Aadhaar is linked to one of their savings accounts. The status of Aadhaar is obtained from the NPCI domain controller. According to the Supreme Court's decision dated September 26, 2018, linking a bank account and an Aadhaar card is not required.

Generator of Digital ID:

The owner of an Aadhaar Number can create their 16-digit Digital ID. 
UIDAI Objectives
The UIDAI Aadhaar card was introduced to provide a unique id to every Indian citizen. Moreover, to bring them into the eyes of the authorities so that they can gain access to vital welfare benefits. Some of the other objectives are as follows:
To create a standard, distinct proof of identity for residents.

To offer a framework that will be used by all nations. In other words, an Aadhaar card will be legitimate all across the country.
UIDAI Functions 
The UIDAI is a governmental organisation responsible for developing various strategies and programmes for people. In order to reap the effectiveness offered to Aadhaar cardmembers. Some of the key functions of UIDAI are as follows:
The UIDAI has several features to make the enrolment process firmer and hassle-free. Some of the features of UIDAI are as follows:
Modernity of the underserved:

The UIDAI's primary goal is to bring the  backward classes into the government's awareness. So that they can take advantage of the government's perks and incentives. The UID strategies and facilities help to improve the delivery of federal welfare amenities.

Customer Enrolment:

For Indian citizens, the UIDAI has an authentic format to look at the registration procedure and perform secure verification. Moreover, it is vital to identify fictitious activity. The method is carried out by collecting the iris fingerprints from the UIDAI's database.

Online verification:

Privacy is a major concern, which is why the UIDAI department assures stringent online authentication.

Flexible:

The authorities of UIDAI have made it flexible for customers by launching an online facility. Even sitting at home, the user can easily perform verification for PVC cards.

Eliminate duplication:

To eliminate duplication of data, the UIDAI has created software that will avoid collisions of information on the database platform. For example, Central ID Repository (CIDR) software has the enrolment of each customer encoded after the completion of the registration process. 
UIDAI Vision and Mission
The UIDAI's vision is to provide individual identity to all Indians. In order to avoid inconvenience during the use of the proof of identity anywhere. 
Mission: 
The government established UIDAI with a mission to fulfil the following goals:
To develop policies, methods, and a framework to enable Aadhaar card enrollment, issuing, verification, and notifications.

Assuring that all information given by cardmembers is kept with the utmost confidentiality.

To provide proper and accountable management while offering cardholders subsidisation and incentives.

Guarantee that all organisations and individuals follow the Aadhaar Ordinance.

It offers a full framework for individuals and organisations to connect with Aadhaar facilities.

Ensure that the information system is scalable, resilient, and available.

To make a long-term organisation capable of carrying forward UIDAI's values and principles.
UIDAI Core Values
The specific core values of the UIDAI are as follows:
The UIDAI claims that the Aadhaar card will aid in the establishment of effective governance planning and implicate new federal initiatives.

One of UIDAI's guiding principles is to make the organisation flexible and secure.

The UIDAI collaborates with various agencies to communicate the value of the alliance.

UIDAI online aims to build a society that sustains human standards and offers standardised service to Indian citizens.
UIDAI Regional Offices
The table represents the UIDAI regional offices as well as their address, phone number details, and director's name:
Regional Office
City
Address
Phone Number 
Director's Name of UIDAI

UIDAI Regional Office

Bengaluru

Khanija Bhavan, No. 49, 3rd Floor, South Wing Race Course Road, Bengaluru - 560001

080-22340104

Sh. Pawan Kumar Pahwa

UIDAI Regional Office

Chandigarh

SCO 95-98, Ground and Second Floor, Sector 17- B, Chandigarh 160017

0172-2711947

Sh. Jitender Setia

UIDAI Regional Office

Delhi

Ground Floor, Supreme Court Metro Station, Pragati Maidan, New Delhi-110001

11-40851426

 11-40851426

Lt. Col. Sanjay Singh Rautela 

UIDAI Regional Office

Guwahati

Block-V, First Floor, Housefed Complex, Beltola-Basistha Road, Dispur, Guwahati - 781 006

0361-2221819

Sh. Kensingh W. Kharbuli 

UIDAI Regional Office

Hyderabad

6th Floor, East Block, Swarna Jayanthi Complex, Beside Maitrivanam, Ameerpet Hyderabad-500 038, Telangana State

040-23739269

Sh. D. Bhaskar Rao, ITS

UIDAI Regional Office

Lucknow

3rd Floor, Uttar Pradesh Samaj Kalyan Nirman Nigam Building, TC-46/ V, Vibhuti Khand, Gomti Nagar, Lucknow- 226 010

0522-2304979

Sh. Nitish Sinha

UIDAI Regional Office

Mumbai

7th Floor, MTNL Exchange, GD Somani Marg, Cuff Parade, Colaba, Mumbai - 400 005

022-22163492

Lt.Col.Akshay Yadava

UIDAI Regional Office

Ranchi

1st Floor, JIADA Central Office Building, Namkum Industrial Area, Near STPI Lowadih, Ranchi - 834 010

9031002292, 9031002298

Dr Krishna Deo Prasad Sahu
Wrapping Up
The aim of constructing an authority like UIDAI is to become the truth. The scheme to protect citizens from fraud has evolved into the leading candidate. It is also offering an identification scheme to the citizens of India.
UIDAI Frequently Asked Questions (FAQs)
What is UIDAI Gov used for?
UIDAI was established to issue Unique Identification Numbers (UIDs) labelled 'Aadhaar,' to all Indian citizens.
What are the benefits of UIDAI?
Aadhaar card is a worldwide identification process that is accepted throughout the country. The Aadhaar process allows portability for people who can relocate from one end of the country to another by offering proof of identification. Moreover, UIDAI can also be authenticated online anytime, anywhere through Aadhaar authentication.
How do I register myself on the UIDAI website?
In India, you can visit the nearest centre for enrolment of Aadhaar. The documents required for the process are proof of identity and two recent passport-size photos.
What if I lose my UIDAI Aadhaar card?
Can the UIDAI Aadhaar card be made online?
Yes, by visiting the official portal of UIDAI, you can apply for an Aadhaar card, and it is also known as an e-Aadhaar card.
Is the UIDAI website safe?
Yes, UIDAI is a safe website because it contains all the details of Aadhaar holders, which are safely kept in the Central Identities Data Repository (CIDR) software of UIDAI.
What is masked Aadhaar?
Masked Aadhaar number means replacing the first eight digits of the Aadhaar number with special characters such as 'XXXX-XXXX' and the rest of the four digits will be visible.
What is biometric locking/unlocking?
Biometric locking and unlocking is a method where an individual can temporarily lock or unlock their iris fingerprints.
What is an e-KYC?
e-KYC method is the KYC digital authentication process for users. This is performed through biometric techniques and further stored in the UIDAI database. Moreover, the verification of the individual's authentication is verified from the existing database.
How do I find out my e-Aadhaar password?
It is a collection of the first four capital letters of your name and the date of birth.
Can we update the mobile number in Aadhaar online?
Yes, individuals can update their mobile number through the self-service update portal (SSUP)online method.