How to Close Bank Account: Samples and Things to Consider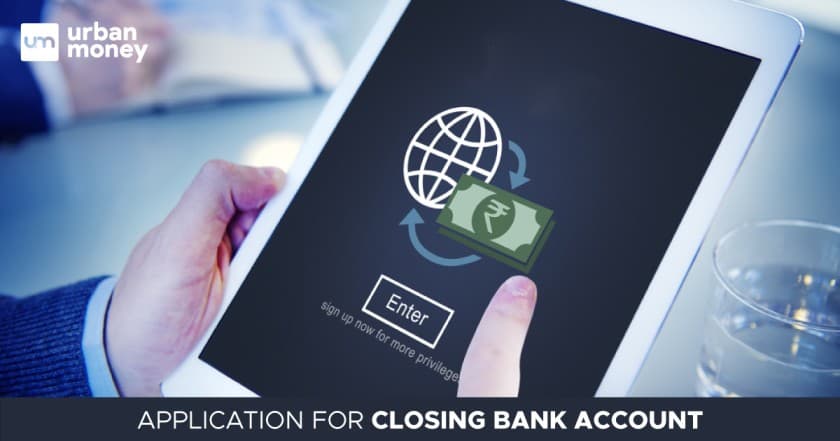 In India, an average person has more than two bank accounts, which results in receiving multiple bank statements and payment of associated bank charges. One of the best things an individual can do to reduce these costs and save money is to close a bank account which is not in use. However, accomplishing this can be complicated.
Different banks have different account closure procedures. These conditions may be as complex and arbitrary as "account holder must wait for at least six months before closing and reopening an account," or they may be as straightforward as "an individual must open another account and then close the existing one." This blog will guide you through the fundamental procedures for closing your bank account with utmost ease through an account close application. 
Bank Account Close Application
A bank account close application is a form that an individual can use to close a bank account. When an account holder wants to close their account and remove all their funds, they often use an application for the same. Additionally, if an account has been inactive for a while, it may be closed using the application.
To close your bank account, you must submit an application letter to the management of the bank branch. The closing account application consists of basic information about the account holder, the account that will be closed, and the reason for the closure.
Additionally, you should ensure that you include any required paperwork, such as a bank passbook, chequebook, debit card, and credit card.
The application must be signed and sent to the bank manager in person or via email. It could take the bank 3 –10 days to finalise the application and close your account after the submission of the application to close the bank account. 
Why Close a Bank Account?
An individual might need to close a bank account for several reasons; the most obvious is that it is no longer used. Other reasons to close a bank account include the following:
Your bank charges you exorbitant fees for anything, such as low-balance or cancellation payment fees.

You have a bank account that has been dormant for a long time.

You want to move your bank account to another bank. But the new bank will only allow you to open an account when the old one is closed.

You are splitting up different types of transactions among various bank accounts, but you no longer require all of them.
Regardless of the reason behind putting forward an account closure, you must write a close account application to the bank. Submit the same to the bank branch, and the rest of the procedure will be taken care of by the bank executive. 
How to Write a Letter to Close a Bank Account?
If you wish to close a bank account by writing an application to the bank executive, you must ensure that you write it appropriately. The bank account close application must be written in the correct format to avoid delay. 
There is a set format for an application to close a bank account. However, the application can differ slightly from bank to bank, but the basics remain the same. 
Here are three sample formats for bank account close application to make it easy. 
Format of an Account Closing Letter
The basic format of an account closing letter is as follows:
The Branch Manager
Bank Name 
Address of the Bank 
Date in dd/mm/yy format
Sir/Ma'am,
[Body of the letter]
Thanking you
Yours Truly,
Name and Signature of the Account Holder
[Name of the Account Holder] 
The content in the letter body changes as per the case scenario, and the rest of the information remains the same. 
Sample 1 – Current Account Closing Letter
The Manager
State Bank of India
Sector 14
Gurugram
11/01/2023
Subject: Request to close the current account
Sir,
I am Reema, and I hold a Current Account in your bank. I want to close my account as it has been a few months since I have been able to keep it up due to personal issues. With this letter, I include the account passbook. Please take the necessary action and start the account closing procedure right away.
Thanking You
Yours truly,
[Signature]
Reema
Sample 2 – Letter to Bank Manager for Closing Account
The Manager
State Bank of India
Sector 14 
Gurugram
11/01/2023
Subject: Request for closing account
Sir,
I have an account in your bank branch with account number 030********6032. Recently I relocated to Bangalore, and I could not access the account frequently. Thus, I would like to close the account. I request you to clear all transactions and transfer the balance amount to my other bank account (Account Details including number, bank name, and IFSC code)
Thank You
Yours truly
[Signature]
Reema
Sample 3 – Bank Account Closing Letter
The Branch Manager
HDFC Bank 
Sector 7
Faridabad
January 11, 2023
Subject: Application to close the savings account 
Ma'am/Sir
I am Reema, and I have a savings account in your bank with account number 8976000067854321. I am moving to Madhya Pradesh for personal reasons and would like to close this account as soon as possible. I have transferred the balance to my other account and would request you do the necessary to close the account., 
I have attached the bank passbook, identity, and address proofs for your reference. 
Thanking you
Yours truly
[Signature]
Reema
Things You Need to Close a Bank Account
To put forward a seamless account closure procedure, you will need the following things: 
Name of the Account Holder

Bank Details such as Account Number

Original Bank Passbook

Cancelled Cheque (if you have a chequebook towards the closing account)

Debit Card and Credit Card

ID Proof documents such as Aadhaar Card, PAN Card

Residence Proof, including Aadhaar Card and Voter ID Card

Photographs of the Account Holder
Having these details and documents beforehand will fasten the account closure process.
Things to Know When Closing a Bank Account
There are certain things that the account holder must take into consideration while closing a bank account to eliminate later-stage hurdles. Here is what you must keep in mind.
Transfer/ Withdraw the Amount 
When you close a bank account, ensure you either withdraw or transfer the money to another account. You can use an online application, NEFT, or RTGS to transfer the account or make a cash withdrawal. 
Deactivate Automatic Payment
If you have activated any automatic payments from that specific account, deactivate it before closing. These automatic payments include direct deposits, utility bill payments, and other automated transfers.
Close Any Associated Accounts
If there is any associated account, ensure you close both accounts. Whether it is a joint account or any sort of investment account, if they are associated, both must be closed in one go.
Destroy Debit Cards, Credit Card and Cheque Book
When you close the bank account, destroy or submit the cards and chequebook to the bank. You must do so to ensure that no one uses them again.
Frequently Asked Questions (FAQs)
How to write an application to close a bank account?
To write an application for account closure, you must follow a set format addressed to the bank manager, followed by branch name, address, and subject. Next to this, in the letter body, explain your reason for account closure and provide account details. Ensure you wholly and accurately give the required information, including the account number.
How can I close my bank account permanently?
It would help if you first visited the bank to learn about the procedure for closing a bank account before writing a letter to the branch manager outlining your reasons for closing the account. Moreover, deliver the necessary records for verification and substantiation.