Vasant Panchami 2023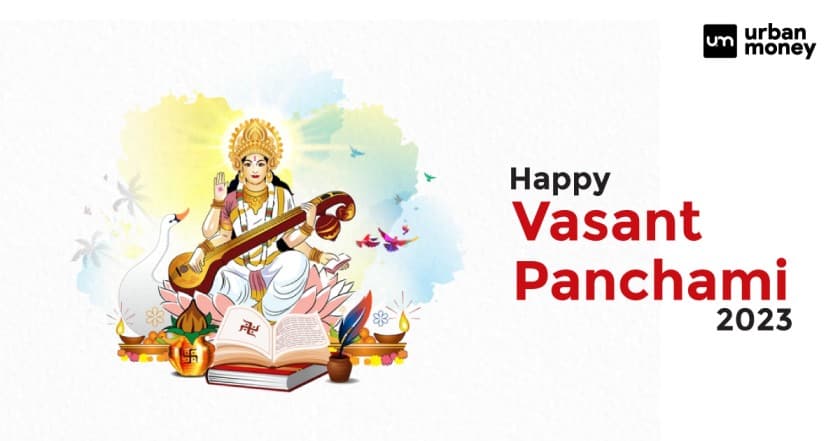 Basant or Vasant Panchami is a well-known Indian festival that commemorates the arrival of the spring season. This festival is also known as Saraswati Puja, an ode to Goddess Saraswati, the deity of wisdom, knowledge (Gyan), art, and culture. This auspicious festival is marked by joy, happiness, excitement, and devotion. People dress up in yellow to symbolise the mustard fields of Haryana and Punjab. Children starting school for the first time are encouraged to write their first words in front of the Goddess Saraswati Pooja on this day.
This piece discusses Vasant Panchami 2023 date and time, regional variance, and observance. Happy Vasant Panchami!
Vasant Panchami Saraswati Puja Muhurat
Vasant Panchami is celebrated by worshipping Goddess Saraswati. January 26 is the Vasant Panchami 2023 date. This year Panchami Tithi is set to begin at 12:34 pm on January 25, 2023, and continue till January 26, 2023, at 10:28 am. Owing to this, the muhurat of Saraswati Puja is given in the table below.
| | |
| --- | --- |
| Date | January 26, 2023 |
| Day | Thursday |
| Time | 07:07 am to 12:35 pm |
| Puja Duration | 05 hours 28 minutes |
History Of Vasant Panchami
There are a lot of stories that revolve around the reason behind Vasant Panchami celebrations. Vasant Panchami is traditionally associated with Devi Saraswati, Lord Brahma's consort and the Goddess of learning, arts, and music. However, according to legend, Kama Dev (the Lord of Love) was instrumental in bringing Mahadev (Lord Shiva) and Devi Parvati together.
According to legend, Goddess Parvati sought Kama Deva's assistance, awakening Shiva from his deep meditation. At the request of Devi Parvati, Kama Deva used a sugarcane bow and a flower arrow to draw Shiva's attention to the materialistic world. 
Lord Shiva was enraged by this action and opened his third eye to burn Kama Deva to ashes. Rati then performed intense penance and sought Lord Shiva's blessings to bring her husband back to life. In a nutshell, the event represents Shiva's return from the state of Vairagya (dispassion) to Grihastha (householder).
Vasant Panchami Significance
India is a country that represents culture, peace, and a sense of belonging among its people, and this has been the Indian way of life since ancient times. Our cultural values and age-old traditions bear witness to this. Aside from these traditions and rituals, India is a country where festivals celebrate the glory of nature, with Vasant Panchami being one such Indian festival.
This festival, known as Sri Panchami in the south (where Sri refers to one aspect of divinity), Saraswati Puja in the east, and Vasant Panchami in the north, commemorate the beginning of the spring season. According to the Hindu calendar, it is celebrated on the fifth day of Magha. With the arrival of Basant Panchami, people begin to plan for the Holi festival, which follows 40 days of Vasant Panchami celebrations.
People celebrate Basant Panchami in various ways, depending on where they live. On this auspicious occasion, for example, several Hindus honour Goddess Saraswati, who is regarded as the creative energy and power in its purest form. Goddess Saraswati, the Hindu symbol of craft, learning, knowledge, and art, was born on this day, according to Hindu beliefs. This is why Goddess Saraswati is worshipped in many places.
Vasant Panchami Deity(s)
Vasant Panchami is an Indian festival devoted to Goddess Saraswati. The deity is the goddess of power, music, knowledge, language and arts.
Vasant Panchami Date and Time
Basant Panchmi is observed on the fifth day of the Hindu month of Magh, and its date varies from year to year. Basant Panchmi is celebrated with great zeal and joy, and special events are held throughout the country. On this day, kite flying is a special attraction to celebrate the arrival of the Spring season. People dress in yellow, prepare unique dishes, exchange sweets, and decorate their homes in yellow.
Vasant Panchami Observance
Vasant Panchami observes the following activities.
Home Saraswati Puja

Flying kites in white and yellow dresses with mustard and marigold flowers offered to Goddess Saraswati 

Vidhya Arambha for children

Saraswati Puja at schools and colleges 

Launching new ventures, particularly educational institutes,[ez-toc][ez-toc][ez-toc][ez-toc][ez-toc][ez-toc] and colleges

Pitri Tarpan for family members who have deceased
Vasant Panchami (State Wise)
India is a diverse country. Following are the descriptions of Vasant Panchami celebrations in a few of the major States of India.
Vasant Panchami in Brij
Vasant Panchami celebrations occur in the temples of Mathura and Vrindavan and mark the start of Holi celebrations in Brij. Most temples are decorated with yellow flowers on Vasant Panchami. To celebrate the arrival of spring, the idols are dressed in yellow dresses.
On this day, devotees can enter the Vasanti room at the famous Shah Bihari temple in Vrindavan. Priests at Vrindavan's Shri Banke Bihari temple begin Holi celebrations by tossing Abeer and Gulal on devotees. Those who prepare the Holika Dahan Pandal to dig holes and install Holi Danda (a wooden stick) filled with waste wood and dried cow dung over the next 41 days for Holika Dahan rituals.
Vasant Panchami Celebration in Punjab and Haryana
Kites are flown in Punjab and Haryana to commemorate the spirit of this festival. Women in households prepare delectable dishes such as Meethe Chawal, Makke ki Roti, and Sarso ka Saag.
Basant Panchami Celebration in Odisha
People in Odisha offer fresh yellow-coloured flowers to Goddess Saraswati in temples on Basant Panchami.
How is Basant Panchami celebrated in West Bengal?
Saraswati Puja is celebrated in Bengal. On this day, the children plan and carry out all of the puja rituals. They go out to enjoy themselves with their families after the puja. Saraswati Puja is also performed in schools, colleges, and other institutions to commemorate the festival. Women typically wear yellow sarees, while men wear yellow dhotis and pyjamas. Along with this, the people prepare a variety of delicacies and sweets such as Rajbhog and Payesh.
Frequently Asked Questions (FAQs)
What is the significance of Vasant Panchami?
Vasant Panchami is marked as the birthdate of Goddess Saraswati, giving the festival the name – Saraswati Jayanti. This day also marks the arrival of the Spring season.
Is Vasant Panchami a good day?
Yes, Vasant Panchami is a good day. The scriptures inform people about how Goddess Saraswati was incarnated from Lord Brahma's mind on this particular day, making it ideal for students to worship the goddess of art, music, knowledge, and wisdom.
Why do we wear yellow on Vasant Panchami?
It is believed that yellow is the favourite colour of Goddess Saraswati. Therefore, her devotees dress in yellow on Vasant Panchami.
Is Vasant Panchami a bank holiday?
Vasant Panchami bank holiday does not exist. It is not a gazetted holiday. However, schools and other institutions may call students for Saraswati Puja.