Gudi Padwa 2023: Celebration Date, Shubh Muhurt & Time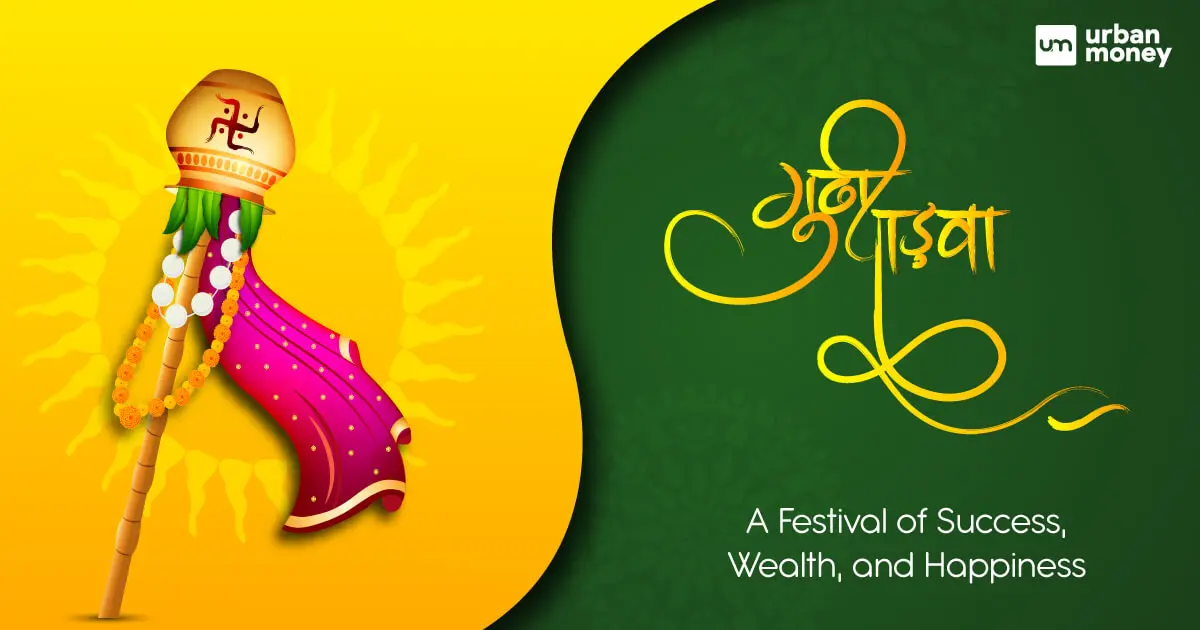 Gudi Padwa mostly observed in Maharashtra, ushers in the harvest season. According to the lunisolar Hindu calendar, Hindus celebrate Gudi Padwa as the commencement of the New Year. Gudi refers to the flag of God Brahma, and Padwa, Padva, or Paddava, refers to the beginning of the moon's bright phase. These two terms collate and make the phrase "Gudi Padwa."
According to the lunisolar calendar of Hindus, Gudi Padwa 2023 festival is observed on Chaitra's first day, March 22, 2023, which, according to the Gregorian calendar, often occurs between March and April.
Table of contents
When is Gudi Padwa (Ugadi) 2023
Gudi Padwa will be celebrated on March 22, 2023.
Gudi Padwa 2023 Muhurat 2023
Gudi Padwa Puja Muhurta - 06.29 am - 07.39 am (22 March 2023)
According to the Panchang, the Pratipada Tithi of Shukla Paksha of Chaitra month will start at 10.52 pm on March 21, 2023, and will end the next day on March 22, 2023, at 8.20 pm. According to Udayatithi, Gudi Padwa is on 22 March 2023. Shubh Muhurta is 06.29 am - 07.39 am (22 March 2023)
Traditions of Gudi Padwa
People clean their homes and courtyards to make things neat and orderly because the event primarily celebrates the beginning of a new year. On this day, one must take the customary oil bath. Women adorn entry doors with "Rangolis" in various designs and hues. The custom includes wearing new clothing, notably kurta-pyjamas and sarees.
The hoisting of Gudi is arguably the festival's most significant event. People create a human pyramid to climb the Gudi to crack the coconut within after it has been raised. It is an essential festive rite that is practised practically everywhere in Maharashtra. Only adult males and teenage boys are permitted to participate in this practice.
Consuming Neem leaves, a tradition that ushers in the festival, is another rite. The leaves can be consumed raw or ground up and combined with other seeds and jaggery to make a chutney. Shrikhand, a sweet eaten with poori, Pooran Poli, Chana, and Soonth Panak, is also cooked on this day.
Therefore, if you live in Maharashtra, you can also participate in this celebration. On this day, various traditional foods are cooked, especially sweets. Other regions of India also observe the event as Ugadi (Karnataka, Andhra Pradesh, and Telangana), Bihu (Assam), and Poila Boishakh (West Bengal).
Significance of Gudi Padwa
Gudi Padwa holds a special place in the Hindu religion. Given below are its significances:
Hoisting the Gudi at home is thought to ward off evil spirits and bring luck and prosperity into your life.
As a celebration of Lord Rama's victory over Ravana, Gudi Padwa denotes the triumph of good over evil.
The day also marks the beginning of spring and is regarded as the harvest festival.
The celebration is also known as Samvatsar Padvo, Ugadi, Yugadi, and Cheti in many other states.
Navreh or Chand. Sajibu Nongma Panba Cheiraoba is the name by which it is known in the northeastern state of Manipur.
Many people believe that buying gold or a new car on this day is auspicious.
Rituals of Gudi Padwa
Gudi Padwa is celebrated all over the Hindu as it holds a special significance in the Hindu religion. Enlisted below are the rituals of Gudi Padwa:
The flag, or Gudi, is raised in front of the house, and colourful rangolis are painted on the doorway.
The flag is embellished with yellow silk adornments, flowers, and mango tree leaves.
Candles are lit, and an auspicious Swastika made with vermillion and turmeric marks the day.
Give those in need water.
How is Gudi Padwa Celebrated?
People clean their homes, take a bath, and decorate their front gates with lovely rangoli patterns and Gudi, made of a new fabric, on the day of Gudi Padwa.
To celebrate their new year, Maharashtrians worship the Gudi, and a delectable buffet is prepared, including everything from Puran Poli to Shrikhand. On the first day of Samvatsara, it's also usual to eat tender Neem, and Mishri leaves.
Interesting Facts About Gudi Padwa
Gudi Padwa, a famous and important Hindu festival, holds some interesting facts to itself, given below are some of them:
A significant component of Gudi Padwa is the rangoli, and as people enthusiastically celebrate Gudi Padwa, the streets are crowded with these rangolis.
Western Maharashtrians participate in a procession honouring Gudi Padwa, the beginning of the new year, by dressing in traditional attire and dancing.
To celebrate the area's rich culture and history, women people throng the streets dressed in colourful and flashy clothes.
The event also commemorates Lord Rama's return to Ayodhya after slaying Ravan, symbolising the triumph of good over evil.
Shrikhand, puri, and Puran Poli are the sweets that are prepared and shared during Gudi Padwa. Foods like Kanangachi kheer, an Indian sweet treat comprised of sweet potato, coconut milk, rice, and jaggery, are prepared by Konkanis.
FAQs
Why is Gudi Padwa celebrated in Maharastra?
On the first day of the Chaitra month, it is observed in and around Maharashtra, Goa, Madhya Pradesh, and the union territories of Dadra and Nagar Haveli and Daman and Diu to mark the start of the new year according to the lunisolar manner of the Hindu calendar.
How to wish Gudi Padwa?
On Gudi Padwa, people wish and bless their near and dear ones for success, wealth, and happiness.
What to do in Gudi Padwa?
Devotees rise before dawn on the day of Gudi Padwa and bathe. Mango leaves are used to decorate the home's main entrance, and Lord Brahma's prayers are used to instil the Gudi. Following the Gudi installation, Lord Vishu's followers worship him according to custom and ceremony.
What is the meaning of Gudi Padwa?
While Padwa stands for the first day of a new Moon phase, Gudi represents the flag of Lord Brahma. In addition to being the day that Lord Brahma created the universe, according to legend, it was also the day that Lord Rama was crowned after slaying Ravana.