Maha Shivaratri 2023 - History, Puja Muhurt, Date & Time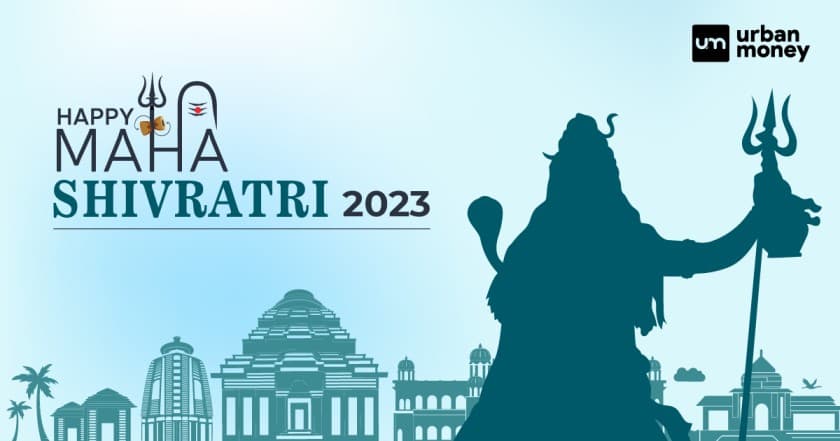 The Hindu holiday known as Maha Shivaratri is celebrated annually to honour Lord Shiva. The day commemorates Shiva's wedding. The day occurs either right after winter (late February or early March) or right before the start of summer. Hindus observe a significant holiday during which prayers are performed to dispel ignorance and darkness from one's life. The auspicious occasion will be celebrated on February 18, 2023.
Maha Shivaratri Holiday 2023 Date
Date: 18 February, Saturday
Festival: Maha Shivratri 2023
Maha Shivratri Puja Muhurat 2023
The favourable time for performing puja (worship ceremonies) is referred to as its muhurat in Hindi. The 12 hours of the night starting on Chaturdashi tithi (the 14th lunar day) in the lunar month of Maagha/Phalguna are known as the Shiva muhurat, or "Night of Shiva."
The start of Chaturdashi Tithi 2023 is at 8:02 pm on February 18, 2023.
The end of Chaturdashi Tithi 2023 is February 19 at 04:18 pm.
Fasting is followed throughout the entire 12 hours (4 prahars) of the night, and the Maha Shivratri puja (rituals) are conducted at Nishita Kaal (the midnight muhurta lasting 48 minutes) or once for each of the four prahars of the night (each prahar lasts roughly 3 hours). Before and after the fast, Hindus typically take a bath.
Due to the time difference and the moon's position in relation to the different locales, the muhurta and prahar timings change by more than an hour throughout India.
History of Maha Shivaratri Festival
Hindus celebrate Maha Shivaratri as a day to remember God Shiva. It is also known as "The Night of Shiva" and is observed across most of India. The celebration always takes place on the 14th moonless night of the new moon in the Phalgun month, which corresponds to the English calendar months of March and February. Devotees perform ritual worship of Lord Shiva during the day and at night.
How is Maha Shivaratri Celebrated in India?
Various cultures and geographical areas celebrate the auspicious event in different ways. The Annamalai temple in Tamil Nadu is where the day is celebrated. Girivalam or Giri Pradakshina, a 14-kilometre barefoot trek around Shiva's shrine at the top of the hill, is practised by devotees.
Devotees from India attend the Mandi fair, held in the town of Mandi. On this day, it is thought that 200 Hindu deities congregate in Mandi.
Unmarried women in West Bengal visit the holy site of Tarakeswar to offer prayers to help them find the perfect husband. 
When praying for the health of their sons and husbands, female devotees bathe the Shivalinga in milk. According to Hindu legend, Parvati, Shiva's wife, prayed on this day to ward off any evil that might befall her husband. Maha Shivaratri has been regarded as a lucky day for ladies ever since.
Devotees wash in the Ganges or any other comparable, revered body of water early in the morning. It is customary to perform purifying rituals, including worshipping the sun, Shiva, and Vishnu. Devotees arrive at the temple dressed in clean clothing and bring pots of water to throw on the Shivalinga after a bath.
Devotees embellish the linga with garlands and flowers. Additionally available are fruits and incense sticks. All these salutations to Shiva are made for humanity's welfare and to shield the world from all evil.
Maha Shivaratri Holiday 2024-2028
The table below pertains to the holiday of Maha Shivratri through 2024-2028. 
| | | |
| --- | --- | --- |
| Dates | Day  | Festival |
| March 8, 2024, | Friday | Maha Shivaratri |
| February 26, 2025, | Wednesday | Maha Shivaratri |
| February 15, 2026, | Sunday | Maha Shivaratri |
| March 6, 2027, | Saturday | Maha Shivaratri |
| February 23, 2028, | Wednesday | Maha Shivaratri |
Best Indian Places To Visit During The Maha Shivaratri Holiday 2023
On the auspicious day of Maha Shivaratri, people visit a lot of religious places to pray and meditate. Following are some places one can visit during Mahashivratri to devote themselves to Lord Shiva:
Maha Shivaratri in Haridwar 2023
Haridwar is renowned for its ghats and temples. In Rishikesh, visitors can also go to a variety of other temples and go river rafting.
Maha Shivaratri Celebration in
Varanasi 2023
One of India's most important Shiva temples is located in Varanasi. As a result, the city observes the holiday with great dedication. Millions of followers visit this location from across the country to celebrate the event. If you're thinking of taking a vacation, consider this location.
Shivaratri Celebrations At Srisailam This Year
In Andhra Pradesh, the Maha Shivaratri festival is observed with great enthusiasm. To commemorate this auspicious event, devotees maintain fasts and recite mantras.
Celebrations of Maha

Shivaratri in

Puri,

Year 2023

Is a well-known Indian vacation spot in 2023 for Maha Shivaratri. Think about this location as well.
Guwahati: Place to
Celebrate Maha
Shivaratri in  2023
On the occasion, Guwahati, the capital of Assam, draws many believers. The most famous temple in the city is Umananda Temple.
2023 Maha Shivaratri celebrations in Mandi
The largest Maha Shivaratri celebrations in India occur in Mandi, where a temple is dedicated to Bhootnath. The Mandi royal family established this custom more than 500 years ago.
Frequently Asked Questions (FAQs)
Why do We Celebrate Maha Shivratri?
The celebration of Lord Shiva and Goddess Parvati's union on the fourteenth day of the dark fortnight in Phalguna is known as Maha Shivratri. According to Hindu legend, Lord Shiva and Goddess Parvati were wed on this day.
What Happens in Maha Shivratri?
It is marked by chanting Shiva's name, fasting, and reflecting on ethical principles and values like honesty, generosity, forgiveness, and the finding of Shiva. Dedicated followers stay up all night. Others travel on a pilgrimage to a Jyotirlingam or one of the Shiva temples.
Why is it Called Maha Shivratri?
Shiva+Ratri, which allude to Lord Shiva and means "night," are combined to form the word "Shivratri." Maha means "Grand" and refers to Maha Shivratri. Therefore, the big night set aside to honour this deity is Maha Shivratri.
What is the Difference Between Shivratri and Maha Shivratri?
Shivratri happens once a month, whereas Maha Shivratri, the great Shiva night, only happens once a year. Shivratri is observed on the fourteenth day of each lunar month. So there are twelve days before the new moon, known as Shivratri, in a year.
महाशिवरात्रि कब है ?
इस बार महाशिवरात्रि का व्रत 18 फरवरी 2023 को है