Mahalaya 2023 - Everything About the Festival in India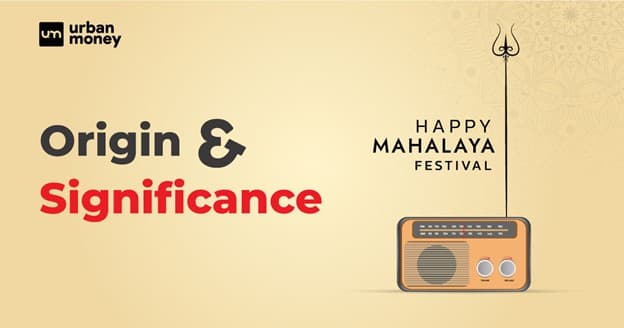 Mahalaya 2023 marks the beginning of the ten-day Durga Puja festival. During Mahalaya, the Hindu calendar marks the end of Pitru Paksha and the beginning of Devi Paksha. Brahma, Vishnu, and Maheswar created Goddess Durga on this day to defeat Mahishasura. Goddess Durga's supreme powers were brought to Earth with her on this day by devoted followers from Kailash Parvat. Only on the day of Mahalaya do the sculptors make Goddess Durga's eyes and paint them. The auspicious day commemorates the victory of good over evil. West Bengal television channels depict Mahalaya through performances, songs, and stories.
Traditions of Mahalaya
On the day of Mahalaya, devotees of Goddess Durga wake up before the sun rises and perform Tarpan. The ritual includes offering prayers to their departed ancestors, giving alms to the needy, and giving bhog to Brahmins. A special puja is also performed before filling colours in Goddess Durga's eyes on Mahalaya day. Chandi path and other divine prayers are also chanted at sunrise, and Mahishasura Mardini is broadcast on the radio.
History of Mahalaya
The mythology holds that Brahma, Vishnu, and Maheshwara created the goddess Durga to combat the demon king Mahishasura. It is believed that Goddess Durga visits her ancestral residence in Mahalaya. It took Goddess Durga around nine days to fight Mahisasura, and on the ninth day, she defeated the demon, which marked the beginning of Navratri and Durga Puja.
Advantages of Paying Homage To Ancestors On Mahalaya
Paying homage to one's ancestors on Mahalaya is a tradition in many parts of India. It is believed that by doing so, one can earn the blessings of their ancestors and receive their protection. Additionally, it is thought that paying homage to ancestors helps to keep their memories alive and helps to connect future generations with their past. For many, Mahalaya is a time to reflect on their ancestors' lives and give thanks for all they have done for them. By paying homage to ancestors, negative energy is released, which helps to create a sense of belongingness and unity within the family.
Frequently Asked Questions
When is Mahalaya celebrated in 2023?
Mahalaya will be celebrated this year on October 14, 2023.
How will Maa Durga come in 2023?
This year, Goddess Durga will come on a boat.
What is the time of Mahalaya?
The Amavasya Tithi will begin at 9:29 pm on October 13 and run until 10:54 pm.
Why do we celebrate Mahalaya?
On the day of Mahalaya, the devotees of Goddess Durga wake up before the sun rises and perform Tarpan. They offer prayers to the departed souls of their ancestors.