The Prime Minister Employment Generation Programme (PMEGP) is a flagship initiative of the Government of India to promote entrepreneurship, create employment opportunities, and foster sustainable economic growth. Launched in 2008, the program is administered by the Ministry of Micro, Small and Medium Enterprises (MSME) in collaboration with the Khadi and Village Industries Commission (KVIC) and the District Industries Centers (DICs).
PMEGP loan provides financial assistance to individuals, self-help groups, and micro-enterprises across various sectors, enabling them to establish or expand their businesses. The program encourages the setting up of new micro-enterprises in rural and urban areas, thereby contributing to the nation's overall development.
What are the Objectives of PMEGP? 
The Prime Minister's Employment Generation Programme (PMEGP) is driven by a set of well-defined objectives aimed at promoting entrepreneurship, generating employment opportunities, and fostering economic growth. These objectives reflect the program's commitment to empowering individuals, particularly those from marginalised communities and creating a conducive environment for sustainable development.
Let's explore the key objectives of PMEGP:
Entrepreneurship Promotion
PMEGP seeks to promote the spirit of entrepreneurship among individuals, encouraging them to establish their own micro-enterprises. By providing financial assistance, the program aims to remove financial barriers and facilitate the transformation of aspiring entrepreneurs into successful business owners.
Employment Generation
A primary objective of PMEGP is to generate sustainable employment opportunities, especially in rural and backward areas. The program focuses on supporting micro-enterprises that have the potential to create a significant number of jobs. PMEGP contributes to reducing unemployment and fostering inclusive economic growth by promoting employment generation.
Rural and Urban Development
PMEGP aims to bridge the rural-urban divide by promoting the establishment of micro-enterprises in both rural and urban areas. The program recognizes the potential of rural and semi-urban regions in driving economic growth and seeks to revitalize traditional industries, promote local crafts, and leverage local resources for development.
Skill Development and Capacity Building
PMEGP emphasizes skill development and capacity building as integral components of entrepreneurship. The program encourages beneficiaries to acquire the necessary skills and knowledge through training programs, workshops, and mentorship initiatives. By enhancing the skills of entrepreneurs, PMEGP equips them with the tools needed to succeed in their respective ventures.
Inclusive Growth and Social Empowerment
PMEGP is designed to promote inclusive growth by ensuring equal opportunities for all sections of society. The program specifically targets women, scheduled castes, scheduled tribes, ex-servicemen, and persons with disabilities, empowering them to become self-reliant and economically independent. PMEGP aims to address socioeconomic disparities and promote social empowerment.
The objectives of PMEGP encompass a broad spectrum of socio-economic priorities, ranging from entrepreneurship promotion and employment generation to rural development, social empowerment, and sustainability. By aligning its efforts with these objectives, PMEGP strives to create an enabling ecosystem for entrepreneurship, empower individuals, and contribute to the overall development and well-being of the nation.
How does PMEGP work?
The Prime Minister's Employment Generation Programme (PMEGP) operates through a well-structured framework to facilitate entrepreneurship, promote employment generation, and drive economic growth. The program follows a systematic process that involves various stakeholders and provides financial assistance to aspiring entrepreneurs. Here's how PMEGP works:
Application and Project Report
Interested individuals or groups need to submit an application for PMEGP to the respective District Industries Center (DIC) or the Khadi and Village Industries Commission (KVIC). Along with the application, a detailed project report (DPR) outlining the business plan, estimated costs, and expected outcomes is also required.
Verification and Selection
The DIC or KVIC verifies the applications and evaluates the project reports based on pre-defined criteria. This includes assessing the feasibility, viability, and potential impact of the proposed micro-enterprise. The selection process involves a committee at the district level, which reviews and shortlists the eligible applications.
Training and Skill Development
Once selected, the beneficiaries undergo training programs and skill development initiatives to enhance their entrepreneurial competencies. These training sessions cover various aspects, including business management, financial planning, marketing strategies, and product development. The aim is to equip the beneficiaries with the necessary skills and knowledge to run a successful micro-enterprise.
Financial Assistance
PMEGP provides financial assistance to the selected beneficiaries in the form of a bank loan and a subsidy. The subsidy component is based on the project cost and varies according to the category of the beneficiary. The subsidy amount is directly transferred to the beneficiary's bank account, while the beneficiary's chosen bank provides the loan component.
Implementation and Monitoring
After receiving the financial assistance, the beneficiaries start implementing their business plans and set up their micro-enterprises. They procure machinery, raw materials, and other resources for their venture. The progress and performance of the beneficiaries are monitored periodically by the DIC or KVIC to ensure proper utilization of funds and adherence to project timelines.
Repayment and Sustainability
The beneficiaries are expected to repay the bank loan as per the terms and conditions agreed upon with the bank. The repayment ensures the continuity of the PMEGP fund and its availability for future entrepreneurs. The aim is to create a self-sustaining cycle where the funds are recycled to support new micro-enterprises, thereby promoting a culture of entrepreneurship and employment generation.
Mentoring and Handholding
PMEGP also provides mentoring and handholding support to the beneficiaries during the initial phases of their micro-enterprise. Experienced entrepreneurs, industry experts, or professionals associated with DIC or KVIC offer guidance and assistance to the beneficiaries, helping them overcome challenges and maximize their chances of success.
The PMEGP framework is designed to streamline the process of entrepreneurship promotion and ensure the effective utilization of funds. By providing financial assistance, training, monitoring, and mentoring, PMEGP facilitates the establishment and growth of micro-enterprises, leading to employment generation and socio-economic development. The program plays a crucial role in nurturing entrepreneurship, empowering individuals, and contributing to the overall progress of the country.
PMEGP Eligibility Criteria
The Prime Minister's Employment Generation Programme (PMEGP) is a government initiative to promote self-employment and entrepreneurship among the youth of India. To ensure the effective implementation of the program, the PMEGP has set certain eligibility criteria that individuals and enterprises must meet. Given below are the eligibility criterias for availing of the PMEGP scheme:
To be eligible for PMEGP, the applicant must be a citizen of India. 
The age limit for individual beneficiaries is between 18 and 35 years, emphasizing the program's focus on empowering the younger generation. However, in the case of special categories such as SC/ST/Women/Ex-Servicemen/Physically Disabled, the upper age limit may be relaxed up to 45 years.
Educational Qualification
There is no minimum educational qualification required to apply for PMEGP. The program aims to provide opportunities for individuals from diverse educational backgrounds, ensuring inclusivity and equal access to self-employment opportunities.
The project cost for manufacturing enterprises should not exceed Rs. 25 lakhs, while for service or business enterprises, it should not exceed Rs. 10 lakhs. The beneficiary's contribution to the project cost should be at least 5% for the general category and 10% for special categories.
Existing units already availed of financial assistance under any government scheme are not eligible for PMEGP. The program aims to support new ventures and provide opportunities for those without such assistance.
The proposed project must be established in the desired district or block.
PMEGP provides special preferences for specific categories, including SC/ST/Women/Ex-Servicemen/Physically Disabled individuals. These categories may receive additional benefits, such as relaxation in the upper age limit and lower beneficiary contribution.
Certain activities are not eligible for assistance under the PMEGP scheme. These include activities related to agriculture, farming, retail trade, educational institutions, and activities that are illegal or detrimental to the environment.
What are the Benefits of the PMEGP Scheme?
The Prime Minister's Employment Generation Programme (PMEGP) is a government initiative to promote self-employment and entrepreneurship among individuals in India. Listed below are the benefits of the PMEGP scheme:
Financial Assistance
One of the primary benefits of the PMEGP scheme is the provision of financial assistance to entrepreneurs. The program offers substantial loans at lower interest rates, reducing the financial burden on beneficiaries.
Subsidised Interest Rates
PMEGP provides loans with highly attractive interest rates, significantly lower than those offered by commercial banks.
Generous Subsidy
The PMEGP scheme incorporates a substantial subsidy component, further enhancing its appeal to aspiring entrepreneurs. The subsidy is calculated based on the project cost, with higher subsidies for specific categories such as SC/ST/Women/Ex-Servicemen/Physically Disabled individuals. 
Employment Generation
PMEGP scheme aims to generate employment opportunities across various sectors. By encouraging self-employment and entrepreneurship, the program facilitates job creation at both the individual and community levels.
Skill Development and Training
To ensure the success of entrepreneurs, the PMEGP scheme emphasises skill development and training. Beneficiaries have access to various entrepreneurship development programs, workshops, and training sessions. 
Encouraging Regional and Rural Development
The PMEGP scheme places emphasis on promoting entrepreneurship in rural and economically backward regions.
Women Empowerment
PMEGP recognises the importance of empowering women through entrepreneurship. The scheme encourages and supports women entrepreneurs by providing specific benefits, such as relaxed eligibility criteria, higher subsidies, and priority in the selection process. 
What are the Documents Required for PMEGP Loan?
To apply for a PMEGP loan, individuals must submit specific documents as part of the application process. Given below are all the necessary documents that are required food availing of the PMEGP loan:
Identity Proof
Aadhaar card, Voter ID card, PAN card, Passport, or Driving License.
Address Proof
Aadhaar card, Voter ID card, Passport, Utility bills (electricity, water, telephone, etc.), and Bank statements. 
Caste Certificate (if applicable)
For applicants belonging to the reserved categories (SC/ST/OBC), a valid caste certificate issued by the competent authority is mandatory. 
Educational Qualification Proof
PMEGP does not impose any minimum educational qualification requirement. However, applicants may be asked to provide educational qualification certificates or mark sheets as proof of their educational background. This helps authorities assess the applicant's qualifications and tailor support and training programs accordingly.
Project Report and Business Plan
A detailed project report and a comprehensive business plan are crucial components of the PMEGP loan application.
Quotations and Estimates
Applicants must provide quotations and cost estimates for the machinery, equipment, and raw materials required for their business. 
Partnership Deed (if applicable)
In the case of a partnership firm, a partnership deed must be submitted as proof of the partnership arrangement.
Bank Account Details
Applicants must furnish their bank account details, including the account number, branch name, and IFSC code. 
Affidavit
An affidavit stating that the applicant has not previously availed of any government assistance for the same project is required. 
PMEGP Loan Interest Rate
The repayment period can be three to seven years after an initial moratorium, and the interest rate that will apply to PMEGP will be the standard interest rate between 11% and 12%.
How to Apply for PMEGP Loan Online? 
With the advent of technology, the PMEGP loan application process can now be conveniently completed online. This article serves as a comprehensive guide, complete with screenshots, to help individuals navigate the online application process for a PMEGP loan.
Let's look at the steps that one needs to follow in order to apply for a PMEGP loan:
Step 1: Visit the Official PMEGP Website and tap the 'PMEG' option. The URL for the website is https://kviconline.gov.in/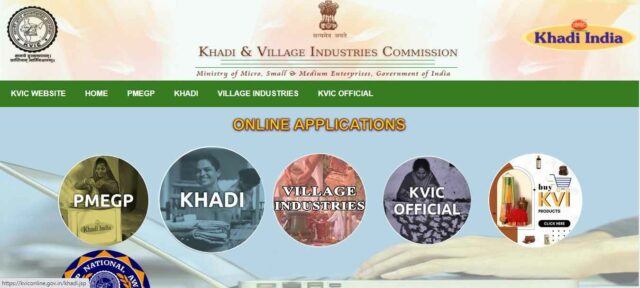 Step 2: Now, a new page will open wherein you must select the 'Application of a New Unit' option.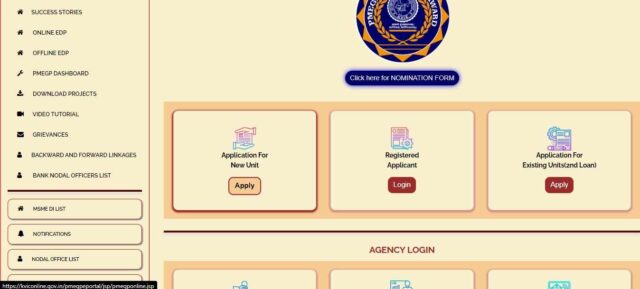 Step 3: Fill in the Registration Form Fill in the registration form with the required details, such as name, address, email, contact number, etc. and select 'Save Application Data'.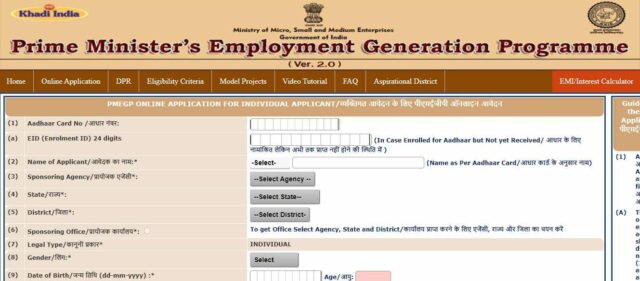 Step 4: Now, upload all the necessary documents and submit the application.
Step 5: Once you have filled out the application and uploaded the documents, you will receive an application ID and password on the registered mobile number.
What are the Nodal Agencies in PMEGP Implementation? 
The successful implementation of PMEGP requires the collaboration and coordination of various entities. Nodal agencies play a crucial role in the efficient execution of the program. 
Listed below are the nodal agencies involved in PMEGP implementation:
Khadi and Village Industries Commission (KVIC) 
The Khadi and Village Industries Commission is a statutory organisation responsible for the development and promotion of Khadi and village industries. KVIC plays a vital role in implementing the scheme at the national level. Its responsibilities include formulating policies, guidelines, and procedures for PMEGP, setting targets, monitoring and evaluating, and providing financial assistance to eligible entrepreneurs.
State Khadi and Village Industries Boards (KVIBs)
At the state level, the State Khadi and Village Industries Boards act as nodal agencies for PMEGP implementation. These boards operate under the guidance and supervision of KVIC and are responsible for executing the program within their respective states. 
District Industries Centres (DICs)
The District Industries Centres serve as important nodal agencies at the district level. DICs play a significant role in the implementation of PMEGP by assisting and supporting entrepreneurs in their local districts. 
Banks and Financial Institutions
Banks and financial institutions collaborate with nodal agencies to provide financial support to entrepreneurs under the PMEGP scheme. They play a crucial role in disbursing loans, ensuring compliance with loan terms and conditions, and facilitating repayment. 
Entrepreneurship Development Institutes (EDIs)
Entrepreneurship Development Institutes are educational institutions dedicated to fostering entrepreneurial skills and knowledge. As nodal agencies in PMEGP implementation, EDIs contribute by providing entrepreneurship development programs, training sessions, and workshops to PMEGP beneficiaries.
Technical and Industrial Consultancy Organizations (TICOs)
Technical and Industrial Consultancy Organizations serve as nodal agencies to provide technical guidance and expertise to PMEGP beneficiaries. They assist entrepreneurs in areas such as project selection, technological advancements, machinery procurement, process optimisation, and quality control. 
List of Activities not Allowed under PMEGP
While the scheme offers a wide range of opportunities for aspiring entrepreneurs, it is essential to be aware of the activities that are not allowed under PMEGP. 
Given below is the comprehensive list of activities that are not eligible for financial assistance under the PMEGP scheme:
Speculative or Trading Activities
PMEGP does not support speculative activities or trading ventures. Speculative activities involve high-risk investments with uncertain outcomes, such as stock market trading, gambling, or lottery businesses.
Real Estate or Construction Projects
Real estate and construction projects, including land development, property investment, and housing construction, are not allowed under PMEGP. 
Activities Involving Animal Slaughter or Meat Processing
PMEGP does not support activities related to animal slaughter or meat processing. This exclusion is in line with cultural sensitivities and animal welfare considerations. Enterprises involved in activities such as slaughtering animals, processing meat, or producing animal by-products are not eligible for financial assistance under the PMEGP scheme.
Manufacturing and Sale of Intoxicants
Engaging in the manufacturing or sale of intoxicating substances, including liquor, narcotics, or tobacco products, is strictly prohibited under PMEGP. The program aims to promote sustainable and socially responsible business ventures that contribute positively to society.
Activities Contrary to Environmental Regulations
Activities that violate environmental regulations, harm the environment, or contribute to pollution are not allowed under PMEGP. Enterprises involved in illegal mining, polluting industries, or violating environmental protection laws are ineligible for financial assistance.
Duplication of Existing Businesses
PMEGP discourages the duplication of existing businesses. Applicants are expected to propose innovative and unique business ideas that add value to the market and create employment opportunities.
Service Sector Activities
PMEGP primarily focuses on promoting manufacturing and business-related activities. While service sector activities are vital for the economy, they are generally not eligible for financial assistance under PMEGP. However, exceptions may exist for select service activities with manufacturing or business components.
Awareness of the activities not allowed under PMEGP is crucial for aspiring entrepreneurs seeking financial assistance through the scheme. By adhering to the guidelines and avoiding ineligible activities, individuals can ensure program integrity, focus on eligible business opportunities, and increase their chances of obtaining the necessary support to kickstart their entrepreneurial journey. It is advisable to consult the PMEGP guidelines and seek guidance from the concerned authorities or nodal agencies to clarify any specific queries regarding eligible or ineligible activities under the program.
FAQs
What is the Prime Minister Employment Generation Program (PMEGP)?
The Prime Minister Employment Generation Programme (PMEGP) is a flagship initiative of the Government of India to promote entrepreneurship, create employment opportunities, and foster sustainable economic growth.
How much is the PMEGP subsidy?
The government provides subsidies up to 35% of the total project cost through the PMEGP plan. Up to Rs. 20 lakhs for service units and Rs. 50 lakh for industrial units' project costs are paid.
What is the interest rate of a PMEGP loan?
The regular interest rates for loans availed under the PMEGP program range from 11% to 12%.
What is the process of a PMEGP loan?
The beneficiary contributes 5–10%, while the bank approves the rest 90–95%. In actuality, only 60% to 75% of the project's cost will be covered by your bank credit. The remaining 15% to 35% are covered under the PMEGP program. Banks offer Term Loans to cover the project's remaining costs.
What is the credit score that one needs to have to apply for a PMEGP loan?
In order to avail of loans up to Rs. 10 lakhs, the suitable borrower must hold a minimum credit score of 50 out of 100, and for loans over Rs. 10 lakhs, a minimum credit score of 60 out of 100.