Eid ul-Fitr 2023 : Date, Holiday, History and Significance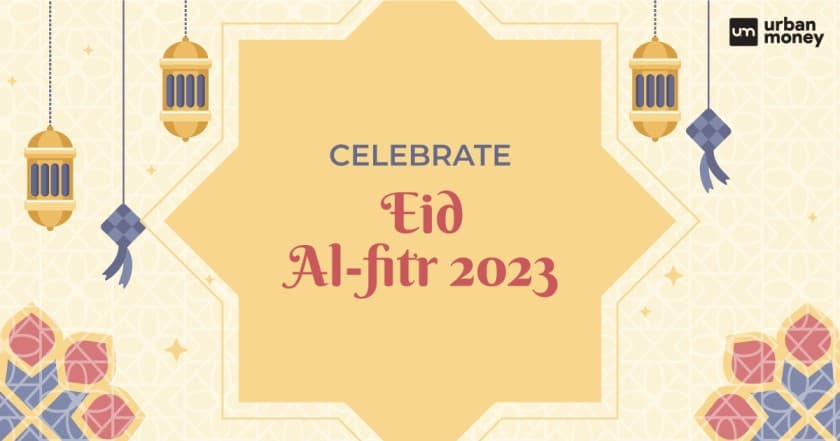 Eid al-Fitr or Eid ul-Fitr is a significant Muslim religious holiday that is enthusiastically observed by Muslims around. This day marks the beginning of Shawwal, the tenth month in the Islamic calendar, as well as the conclusion of Ramadan's one-month fast. It heralds the start of a feast and is also known as the "Festival of Breaking the Fast."
On the day of this holiday, people thank Allah for giving them the stamina to observe a one-month fast and refrain from engaging in vices. The Eid ul-Fitr festival might span anywhere from one to three days, depending on the country. Celebrate Eid 2023 with this guide.
Table of contents
When is Eid 2023?
| | |
| --- | --- |
| Festival | Eid ul-Fitr 2023 |
| Date | April 22, 2023 |
| Day | Saturday |
Moonrise Time Eid 2023
 Eid ul-Fitr 2023 Moonrise (Delhi)
Rise Time
07:03 PM.
Note: The Moonrise time is based on expected only, kindly check it own.
Important Dates of Eid 2023
The first day of Shawwal, the tenth month of the Islamic calendar, often in April or May, is when Eid is observed. The Arabic translation of the holiday's name is "To Be Light and Vigorous" or "Lift or Carry."
Although Eid is not observed until the night of the new moon, the celebration of Eid begins at various times and occasionally on different days around the world. Some Muslims celebrate Eid when the new moon appears over Mecca to make it more uniform. The celebration of Eid ul-Fitr will start on April 21 in the evening and end on April 22 in the evening.
The Gregorian calendar is based on the solar cycle, whereas the Islamic calendar is based on lunar cycles. According to the Gregorian calendar, the celebration always takes place roughly ten days earlier than it did the year before.
Holiday on Eid 2023
The celebration of Eid ul-Fitr will take place on April 22, 2023, and various Indian states will recognise this day as a public holiday. All government offices, schools, and banks will be closed on this day. Many private offices will also observe this day as a holiday or provide Muslim employees with a restricted holiday. In Muslim regions, stores, markets, and other establishments typically close early or have limited hours.
History of Eid ul-Fitr Festival
In order to commemorate the victory at the Battle of Badr, Prophet Muhammad (PBUH) first instituted the feast in 624 CE. At that time, Eid ul Fitr has grown in importance throughout Islam. According to legends, the celebration of Eid ul Fitr started when Prophet Muhammad (PBUH) moved from Makkah to Madinah.
Eid ul-Fitr Significance
After observing Ramadan's one-month fast, Eid al-Fitr is observed. They abstain from eating and drinking anything from dawn to dusk throughout the month of Ramadan. In addition, people try to completely break their harmful habits and abstain from evil thoughts and deeds.
Muslims celebrate Eid al-Fitr by treating themselves to delicious food, fashionable attire, and time spent with friends and family after observing the one-month-long fast with the utmost devotion. Muslims are only allowed to break their fast on Eid ul-Fitr during the entire month of Shawwal.
Eid ul-Fitr Rituals
On the evening of the first crescent moon sighting, the Eid al-Fitr festival begins at sundown. The festival is observed the following day if the moon is not visible for whatever reason, such as overcast weather or a brilliant sky. People are not allowed to fast on the day of Eid al-Fitr. Following the special prayer for Eid al-Fitr, they begin feasting to celebrate the day.
People also contribute food and money to the needy and hungry as part of charity labour or donating tradition. Before saying a particular prayer, donations are typically made.
Eid 2023 Celebration
After bathing, people get up early and change into new clothing. An Islamic prayer called salat, which consists of two parts, is typically offered on the day of Eid al-Fitr in an open field or big auditorium like a mosque or community centre. Allah is asked for blessings and pardon for all sins committed consciously and unknowingly.
Following the prayer, people visit the homes of their friends and family members before coming together for a large celebration. Eid al-Fitr is celebrated with a special feast shared by everyone, and people also give and receive gifts.
Top Five Indian Destinations To Celebrate Eid ul-Fitr 2023
India welcomes Eid 2023 with an open heart, immense fun and lavish food. The following cities are among the top five destinations to celebrate Eid 2023. 
Taj Mahal Mosque, Agra
The Taj Mahal Mosque is visited by throngs of fervent worshippers who visit this beautiful landmark to observe Eid-Ul-Fitr. In the expansive courtyard in front of the mosque made of red sandstone, they perform Namaz. During the morning Namaz, believers greet and wish one another a happy Eid! In the vicinity of the Taj Mahal, people may purchase new clothing, sweets, and other delicacies at a dazzling market decorated with vibrant festoons, lights, and decorations.
Masjid-E-Khadria, Bangalore
This magnificent mosque is not far from Bangalore Cantt Railway Station. It is located on Quddus Saheb Eidgah, where the Haji annually visits the Haj Camp. During Ramadan, the mosque has high foot traffic as millions of believers congregate there to perform the Eid Namaz.
Haji Ali, Mumbai
Mumbai's Haji Ali is a well-known landmark. It is the ideal site to Celebrate Eid 2023 and is a magnificent example of Islamic architecture. Its white minarets and domes are visible from a distance and adjacent to the expansive Arabian Sea. Throughout the year, it receives tens of thousands of visitors and worshippers. People visit this mosque to seek mannat from Allah and admire its aesthetic splendour and advantageous position. At the Mazar of Hazi Ali, it is said that no one who prays is ever dissatisfied.
Mecca Masjid, Hyderabad
Makkah Mosque is another name for Macca Masjid. One of the biggest custom structures may be found in Hyderabad, the state capital of Andhra Pradesh. The structure has a one-time capacity of more than 10,000 worshippers. The masjid transforms into a bustling hub of activity and prayer during the holiday of Eid al-Fitr. Devotees from all over the city and the country come to exchange presents and pleasantries at this location.
Hazratbal, Srinagar
Many offer prayers at Hazratbal, home to the Prophet Muhammad's sacred relic. On the banks of Dal Lake is the proper location to offer prayers. On the night before the celebration, Srinagar takes on a festive appearance. People are swarming the city's streets to shop for this lovely festival.
Do's and Don'ts of Eid al Fitr 2023
Even though it is all fun, certain guidelines must be followed when celebrating Eid al Fitr. The followings are the dos and don'ts of the grandest festival.
Do's
Eid 2023
Eid al-Fitr encourages people to leave their homes and meet their loved ones. 

You must decorate your house to get into the festival spirits.

You must keep Eidi or gifts in hand. This will save you last-minute trips to the store when guests arrive.

The menu for the day of Eid must be planned beforehand. 
Don'ts Eid 2023
When you are fasting, everything is simpler, and you don't have to worry about wasting time buying when you could have been participating in worship. So, plan your festivities accordingly and do not keep things to the last minute.

The final ten nights of Ramadan are the most crucial and significant part of the entire month. Those who fast during the day have greater vigour at night to be active in their communities. But don't use up all of your precious time getting ready for a single day. Strive to schedule your day so that you can accomplish as much as you can.

Do not go overboard. After fasting for a month, it becomes a little difficult to stuff oneself just the next day. Therefore, prepare as much food as your stomach can digest.

Eid al Fitr is a festival of worshipping and celebration. A worshipper must not take the stress of combining extra worship and preparing for the festivities as well.
FAQ's About Eid ul Fitr 2023
How many days is Eid 2023?
Eid al-Fitr is two months from February 22, 2023.
What time is Eid 2023?
Eid al-Fitr 2023 will be celebrated on Tuesday, 22nd April 2023.
Is Eid al-Fitr 3 days long?
Yes, Eid al-Fitr is a three-day-long festival celebrated at the end of Ramadan, the holiest month of the Islamic calendar