Maha Saptami 2023: Date, Time and Rituals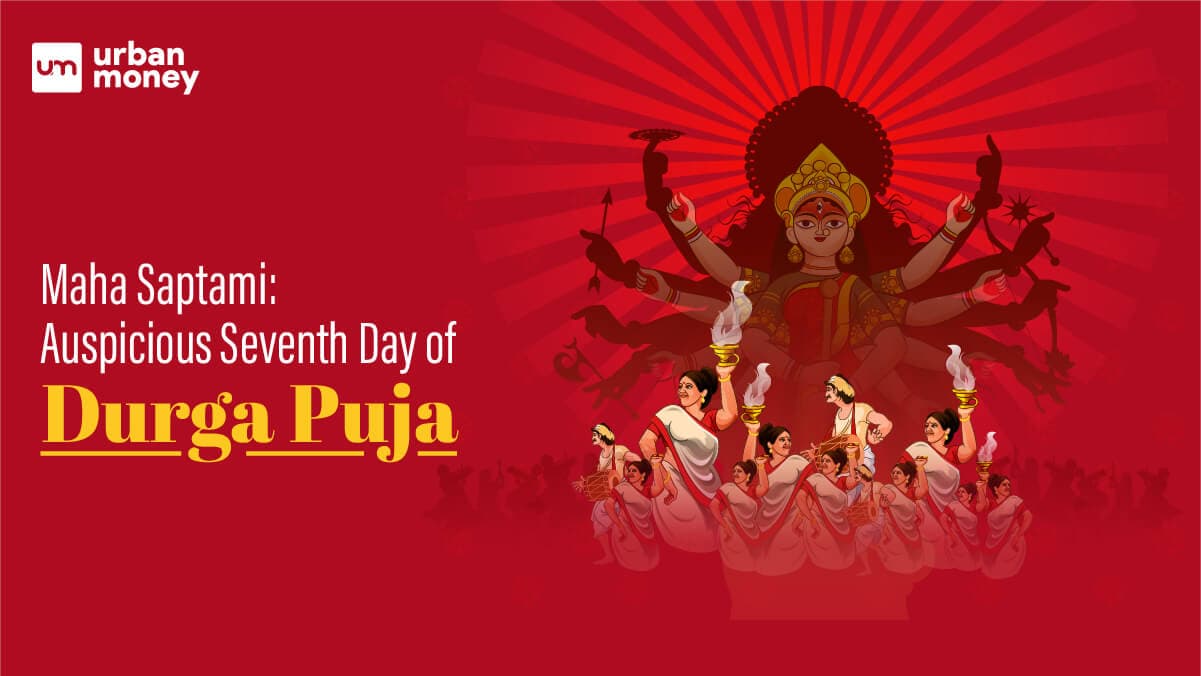 Maha Saptami, also known as Maha Sasthi, is celebrated on the seventh day of this festival. In 2023, this auspicious day will occur on October 21. Navratri is also observed in several regions of India; hence, it is common to find people observing fasts during this period. We can often hear Saptami Durga puja as Shardiya Navratri in some regions. People will celebrate the Saptami Durga Puja 2023 on the seventh day of a 9-day Navratri festival, beginning on October 15, 2023.
Traditions of Maha Saptami
The one thing through which we can easily find our roots connected is our traditions and the dignity attached to them. In the same way, we follow some traditions for the Durga puja Saptami.
Everything in our tradition starts with waking up early, and it's the same with Durga Puja 2023 Saptami. The devotees from around the corner come together and take baths in the holy water of Ganga, followed by offering prayers to Goddess Shakti.

Bhog, mainly known as Prasad in many traditions, is prepared and offered with some special dishes to Goddess Durga and then is shared as blessings of Goddess with the devotees.

On the auspicious day of Durga Saptami, Maha Puja begins with devotees performing Kalratri Puja as per the rituals and traditions.

Devotees also worship Goddess Saraswati on Maha Saptami or Maha Sasthi by performing Saraswati Puja.
The Mythology of Maha Saptami
It's quite common for children in India to have grown up hearing ancient mythological tales associated with the festivals we commemorate or the pujas we conduct. An interesting story is attached to Maha Saptami, telling us the importance of celebrating this auspicious day with much grace and belief. We all have heard of Ramayan and how Ram spent 14 years in Vanvasa and saved Sita from Ravana. However, Maha Saptami has long been associated with another myth, the Legend of Lord Rama.
The Legend of Lord Rama
According to the legend, when Lord Rama went to save Sita from the devil Ravana, he prayed to Goddess Durga. That special puja could only have happened with certain special ingredients, which were '100 Blue Lotus' called 'Neelkamal', but Lord Rama could not reach a hundred. He only was able to find 99 Blue Lotus. Lord Rama had immense devotion to Goddess Durga, so to complete the puja, he plucked out one of his own eyes, which was blue and presented it to the deity along with 99 Blue lotus as the 100th. After seeing such devotion, Goddess Durga was impressed by Lord Rama and showered him with all her blessings. Those blessings helped Lord Rama against Ravana in saving his abducted wife. This battle started on the 7th day in the month of 'Ashwin' and is also called Maha Saptami. It is then followed by all the celebrations.
Festivities
The best part about our country is that we all attach different values to celebrating different festivals. The Maha Saptami or Maha Sasthi in Durga Puja is nevertheless different. In West Bengal, lights and garlands are embellished all over the 'Pandals', also known as special tents. In addition, huge statues of Goddess in the avatar of 'Mahishasura Mardini' or 'The slayer of Mahishasura' are seen all around. Devotees get dressed for the celebration and visit the Pandals with their families. They enjoy this festivity along with special sweets and food prepared at home.
Rituals In Maha Saptami
Mahasnan

takes place in the gloom of Goddess Durga, i.e. a mirror is put up to be personified as the deity of Goddess Durga. The devotees keep the mirror far to reflect the perfect reflection of the Goddess. This mirror is kept after a ceremonial bath with the same holy water.

Navapatrika

is also known as the bathing ritual in the gloom of Goddess Durga. In this ritual, the nine plants are tied together with a knot and dipped into the holy water of the river Ganga. This practice is completed before sunrise in the 'Brahma Muhurta'. These nine plants include Bel, Ashoka, Banana, Paddy, Turmeric, Pomegranate, Jayanti, Arum and Colocasia. The plants symbolise Goddess Durga; eight were formed during the battle to fight against the demon Mahishasura.

Prana-Pratishta:

A clay pot filled with holy water from the river Ganga is placed in this. It is covered with a coconut enclosed with five mango leaves and kept before the deity's idol. The pot is then sanctified by a priest with the spirit of Goddess Durga while reciting Goddess's holy mantras. After this, the Goddess is worshipped using 16 different holy items.

 
Other Key Days During Durga Puja
The rituals attached to Durga Puja come with a few more days, along with Maha Saptami. These rituals are carried out from the first day of Durga Puja. Some of the days fall in the category of public holidays. A list of a few more rituals includes:
Mahalaya is the very first day of Durga Puja and marks its beginning.

Durga Ashtami or Maha Ashtami in Bengal is the 8th day of Durga Puja and Navratri. People celebrate this day by worshipping the weapons used by Goddess Durga.

Maha Navami is the 9th day in the Navratri. On this day, we offer prasad to 'kanjaks' (girl children) and welcome them into the house as a symbol of the Goddess.

Vijaya Dashami, also known as Dussehra or Dashain, is the 10th day of Durgotsava or Navratri. On this day, we worship Goddess Durga on a lion to slay Mahishasura and the day Lord Rama achieved victory over Ravana.
Frequently Asked Questions
What do we do on Maha Saptami?
On the felicitous 7th day of Durga Puja, i.e. Maha Saptami, we perform the rituals Navpatrika, MahaSnana, and Prana-Pratishtha. We worship goddess Durga and seek blessings and happiness.
What is the date of Saptami?
The date of saptami Durga Puja 2022 is October 2.
Why do we celebrate Maha saptami?
Maha Saptami represents the victory of good over evil. On this day, Goddess Durga fought against the demon Mahishasura and got victory.
Is Maha Saptami auspicious?
As per our Hindu mythology, it lies on the 7th day of Durga Puja and is as auspicious as all the other days of Durga Puja. During this, devotees worship Goddess Durga and are blessed with happiness and joy.
How do you wish for Saptami?
Saptami is a very joyous festival that carries hope, enthusiasm and happiness all around. You can choose to wish everyone Happy Saptami and a prosperous and joyous year ahead.