How to Link Aadhaar with PAN Card Online and Offline
The process of Aadhaar Card PAN Card Link is a crucial step because it will enable you to process your income tax returns. If you are conducting banking transactions for a quantity of INR 50,000 or more, a PAN card Aadhaar link is necessary.
The government has extended the PAN card Aadhar card linking deadline till March 31, 2023. The previous expiration date was March 31, 2022. However, if people fail to Link Aadhaar with PAN card by March 31, 2022, fines will be imposed as announced by the CBDT. The penalty will be INR 500 if the PAN and Aadhaar are linked before June 30, 2022. If Aadhar and PAN are linked as of July 1, 2022, the penalty is INR 1,000.
Your Aadhaar card pan card link is a very straightforward process. We'll look at some of the procedures on how to link Aadhar with PAN card.
How to Link Aadhaar Number with PAN Card Online
The PAN card Aadhaar card linking can be done using the following three ways:
Aadhaar Card Pan card link through an SMS
Without logging in to the income tax website
Logging in to the income tax website
Linking PAN with Aadhaar by Sending an SMS
You can link Aadhar with PAN card via SMS. You will have to drop a text at the number '567678' or '56161'. An exact format must be followed when typing the message. The format is 'UIDPAN<12 Digit Aadhaar> <10 Digit PAN>.'
For instance, your Aadhaar number is '1234567891234', and your PAN is 'ABCDE1234F'. The format of the message will be - UIDPAN 12345678912 ABCDE1234F and send it to '567678.'
Aadhaar Pan Card Link Through Website (Without Logging In)
It is not mandatory to log in to the income tax website to do Aadhaar card Pan card linking. One can:
Visit the official website of the income tax
Locate 'Quick Links' at the left sidebar of the page
Click on the 'Link Aadhaar' Option.
Enter PAN and Aadhaar number
Enter the OTP sent to the registered mobile number
Proceed with the 'Validate' button once it gets highlighted.
PAN Aadhar Link Through Website (Logging In)
The procedure to be followed once you log in is:
Register at the income tax e-filing portal.
Enter the user ID to access the income tax department's e-filing system.
Enter your password and confirm your safe access message. And to continue, click 'Continue.'
Click 'Link Aadhaar' after logging in to the website. Alternately, you can access 'My Profile' and choose 'Link Aadhaar' from the 'Personal Details' menu.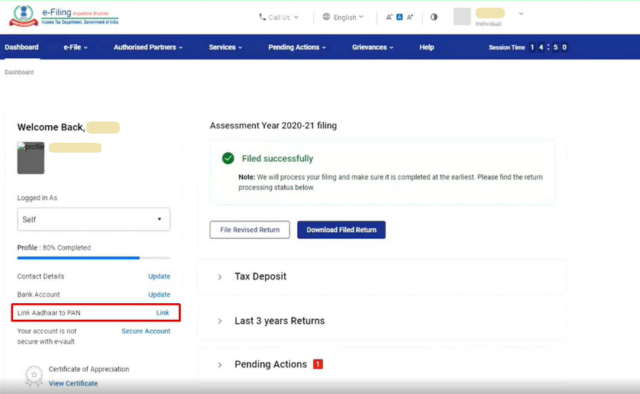 Name, date of birth, and gender must be entered exactly as specified in the PAN card. Compare the information displayed on the screen to the information on your Aadhaar card.
Select 'Link Aadhaar' from the menu.
You will see a pop-up notification confirming the successful linking of your PAN card and Aadhaar number.
How to Link PAN Card Aadhaar Card Offline.
To link PAN with Aadhaar Offline, follow the below steps:
Step 1:  Visit the nearest PAN service centres of NSDL and UTITSL.
Step 2: Carry your PAN and Aadhaar cards.
Step 3: Fill out the 'Annexure-I' form and attach the supporting documents, such as a copy of your PAN card and an Aadhaar card.
Step 4: After-verification, your Aadhaar will be linked to the PAN.
Note:  Offline Aadhaar Pan linking It is not FREE . Such designated PAN Service Centres will charge you some nominal charges.
What to do if you Fail to Link your PAN with Aadhaar?
If you forgot to link your PAN to your Aadhaar, you must go to the closest PAN Centre and submit a completed Aadhaar seeding form. You should be aware that you must carry all the necessary documents, including your PAN and Aadhaar, and the Aadhaar seeding form. You will be required to pay a fee for the service of physically syncing your PAN and Aadhar.
Unable to Link Your PAN Card to Your Aadhaar Number?
You might face disruption when trying to link your PAN card to your Aadhaar number if:
There is a mismatch between the details mentioned in your Aadhar card and the PAN card. The mismatch could be in the name, date of birth, or gender.
You entered the incorrect Aadhaar number, or the database can't locate your Aadhaar number.
Procedure to Make Corrections in Aadhaar Card
You can correct the details on your Aadhaar card using the online or offline method. This procedure costs nothing and can be done by following the below-mentioned steps:
Aadhaar Correction Online Method
Check out the official UIDAI website.
To access your account, enter your 12-digit Aadhaar number and a captcha code to access your account.
Enter the OTP sent to your registered mobile number and press on submit
Choose the Aadhaar Card fields that require updating.
Upload the scanned copies of the documents requested.
After finishing the previous phase, a URN (Update Request Number) is generated. This is necessary for the subsequent process.
A hard copy can be obtained once the Aadhaar has been updated with the new information.
Aadhaar Correction Offline Method
Utilise the UIDAI website to procure the correction form.
Opt for 'Resources', click on 'Enroll Documents', and finally, move on to download forms.
Download and print the Aadhaar Correction Form
Fill out the necessary information that needs to be changed.
Attach the self-attested supporting documents.
The amended form must be forwarded to UIDAI, Post Box No. 99, Banjara Hills, Hyderabad, India, 500034, along with the supporting papers.
Link Aadhaar and PAN in Case of Name Mismatch
Your Aadhar to PAN card link will be terminated if there is a mismatch between the name on your Aadhaar card and the name on your PAN card. However, you can make amendments to your name on either the Aadhaar card or your PAN card. This can be done by following these steps:
Change Name on Aadhaar Card
To change the name on your Aadhaar card online, you must:
Visit the SSUP (Self Service Update Portal) Portal
Log in using your Aadhaar number
Correctly enter your name and surname in the 'Update Information' field
Self-attested documents must be uploaded for verification
Click on 'Generate OTP', which will be sent to your registered mobile number
You will receive an acknowledgement regarding your request.
One can change their name on an Aadhaar card offline by visiting the nearest Aadhaar enrolment centre. You will need to carry supporting documents and pay a fee of INR 50 once you have submitted the update/correction form.
Change Name on PAN Card
To change your name on your PAN card using the online method, you need to:
Visit TIN-NSDL or UTIITSL website and opt for 'Apply Online.'
Select 'Changes/Corrections in existing PAN card' under the 'Application Type' and make the required changes.
Online applications must be paid via debit or credit card or net banking.
It generates a 15-digit acknowledgement number that can be used to check the status of a PAN card.
The applicant receives the updated PAN card within 45 days after successfully submitting the application.
The offline method requires you to visit the nearest PAN enrolment centre and fill out a form that must be properly completed with accurate information at all times. Before submitting the form, the attached photo and signature are required. A demand draught in the name of NSDL must be delivered with the application form if submitted offline to the NSDL's registered address.
Steps To Check PAN-Aadhaar Link Status
To check the Aadhaar card PAN card link status, you must abide by the following steps:
Visit the official website of the e-filing income tax department,
On the left side, you will find a 'Quick Links' section. Locate and click on the 'Link Aadhaar Status.'
You will be directed to a new page wherein you will be asked to enter your PAN and Aadhaar number.
The previously locked 'View Link Aadhaar Status' will now be available to take you further into the process, The next page will feature your PAN card Aadhaar link status.
Importance Of Linking PAN Card With Aadhaar Card
For all PAN card holders, the Aadhaar and PAN card link is crucial for the following reasons:
All PAN cards that are not linked to Aadhaar will be cancelled after March 31, 2023.
Multiple PAN cards being issued under the same name is a problem the PAN-Aadhaar card link can solve.
If your PAN is not connected to Aadhaar, your income tax return form won't be processed as specified in the Income Tax Act.
The user will receive a summary of the taxes owed to them for future use.
Benefits of Aadhaar Card Pan Card Link
Section 139 AA of the Income Tax Act has made it mandatory for Indian residents and NRIs to link Aadhaar with PAN cards. It has the following benefits:
It reduces the likelihood of one individual possessing multiple PAN cards, thus preventing people from hiding their taxable income.
Since practically all transactions now require an Aadhaar number, the Income Tax Department would record all transactions when PAN is connected to Aadhaar.
Activities like phoney identities and illicit financing operations like drug trafficking will be eliminated.
It aids taxpayers with various ancillary tasks and submitting their income tax returns - E-verification of Aadhaar.
Frequently Asked Questions (FAQs)
While trying for PAN-Aadhar linking, I get a message that the authentication has failed?
You might get the message 'The authentication has failed' when linking your PAN with your Aadhaar card. One reason could be a mismatch in the name, birth date, or gender between the two cards, and another might be that you have wrongly entered your Aadhaar number.
How do I link PAN and Aadhaar if a name or date of birth mismatch exists?
If a mismatch is found, you will need to change your name or date of birth on either the Aadhaar card or the PAN card.
Can I file my ITR if my PAN and Aadhaar are not linked?
For residents of India, it is mandatory to link PAN with Aadhaar to file their ITR.
Does a Non-Resident Indian (NRI) need to link PAN and Aadhaar?
Section 139 AA of the Income Tax Act makes it mandatory to link PAN with Aadhaar.
Do I have to submit any documentary proof to link my PAN and Aadhaar Card?
No, you do not submit any documentary proof to link your PAN and Aadhaar Card.
What details do I have to check when linking my PAN with my Aadhaar card?
You must scan through the details mentioned in your PAN card and match them with the details mentioned in your Aadhaar card.
My name is different on a PAN Card and Aadhaar and it is not allowing me to link both. What to do?
If there is a difference between your name on the PAN card and your Aadhaar card, then you will be prompted to change the name on either one before linking them.