In an effort to improve e-governance in Panchayati Raj Institutions (PRIs) across the nation, the Ministry of Panchayati Raj (MoPR) developed the eGram Swaraj portal. The portal's goal is to increase openness in work-based accounting, progress reporting, and decentralised planning.
Prime Minister Narendra Modi officially launched the webpage on April 24, the day of the annual National Panchayati Raj holiday. The opening of the portal will signal complete digitalisation and strengthen e-governance across the nation's PRIs.
E-Gram Swaraj Scheme Details
The E-Gram Swaraj scheme is a great initiative from the government for the common people. Given below are the details of the scheme:
| | |
| --- | --- |
| Name of the Scheme | EGram Swaraj Portal |
| Launched by | Ministry of Panchayati Raj |
| Beneficiaries | Citizens of India |
| Scheme's Objective | Strengthening of e-Governance in Panchayati Raj Institutions (PRIs) |
| Scheme's Benefit | Keep track of community development and make it simple for farmers to apply for loans |
| Scheme opened under | Central Government |
| Post Category | Scheme/Yojana |
| Website (Official) | www.egramswaraj.gov.in |
Who can Create an Account on the Gram Swaraj Portal?
Everyone who is a citizen of India can make an account on the web as its main goal is to inform everyone about the ongoing development projects in villages.
How to Register on the E-Gram Swaraj Portal?
The steps listed below must be followed in order to register on the portal:
Step 1: Open the www.egramswaraj.gov.in official website.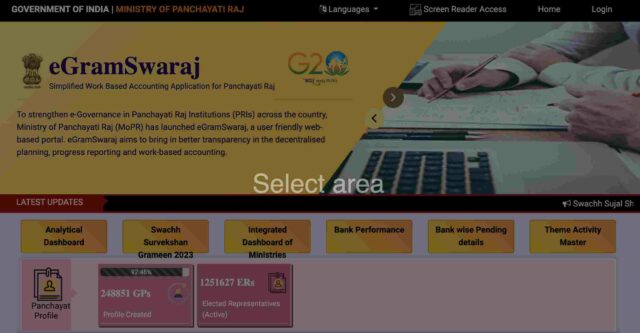 Step 2: Select the option of 'Apply Online'
Step 3: Now, fill in all the necessary information in the registration form.
Step 4: Select the option of 'Submit', and you will get your details on your registered phone number or email ID.
How to Login on the E-Gram Swaraj App?
One needs to follow some simple steps so as to login to the E-Gram Swatraj application, given below are the steps:
Step 1: Open the 'Play Store' or 'App Store' on your phone and install the 'E-Gram Swaraj' application.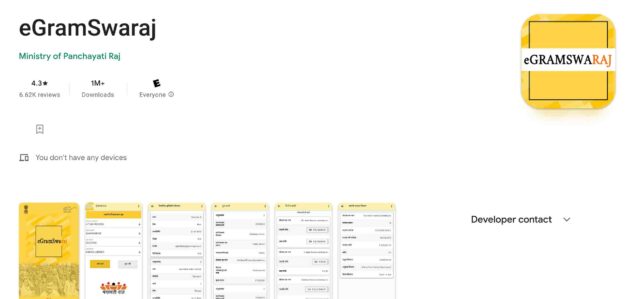 Step 2: Fill in your details and log in to your E-Gram Swaraj application.
Step 3: Once you have logged in, the application will open with your account on it.
What are the Features of the E-Gram Swaraj Portal?
A ground-breaking portal called E-Gram Swaraj uses technology to strengthen rural government in India. This portal, which was established as a component of the Digital India program, intends to improve the efficiency, inclusivity, and transparency of the operation of gram panchayats or village councils. E-Gram Swaraj offers a comprehensive platform for residents, local government representatives, and other stakeholders to engage, collaborate, and actively participate in the development and decision-making processes at the grassroots level by utilising digital technologies and connections.
Let's explore the key features of the E-Gram Swaraj Portal:
Online Profile Creation and Registration
Citizens can construct personal profiles and register online using the E-Gram Swaraj Portal. This element encourages a sense of ownership and accountability by allowing rural communities to participate in local administration actively.
Mechanism for Redressing Grievances
The E-Gram Swaraj Portal offers an integrated grievance redressal process to guarantee quick settlement of citizen complaints.
System of Financial Management
The portal has a strong financial management system enables gram panchayats to manage their finances efficiently.
Planning and Construction
E-Gram Swaraj helps the planning and development operations of gram panchayats by offering a platform for creating and implementing development plans. It makes it possible to plan projects, allocate resources, and monitor development. This feature makes it easier to use resources effectively and encourages sustainable development at the local level.
Procurement Process Transparency
By streamlining the procurement procedure, the platform ensures efficiency and transparency for gram panchayats.
Citizen Feedback and Participation
E-Gram Swaraj facilitates public consultations, surveys, and feedback mechanisms to promote citizen engagement and participation in local governance.
Training and capacity building in E-government
The portal provides resources for skill development and capacity building in recognition of this demand.
What are the Benefits of the E-Gram Swaraj Portal?
In India, the E-Gram Swaraj Portal has become a game-changing tool for rural empowerment. This cutting-edge platform offers gram panchayats (village councils) and their citizens a wide range of advantages by harnessing the power of technology and digital connectivity. The E-Gram Swaraj Portal is crucial in transforming rural administration, from increasing public engagement to better service delivery. Let's examine the main advantages of this revolutionary project:
Enhanced Accountability and Transparency
The E-Gram Swaraj Portal's promotion of openness and accountability in rural administration is one of its main advantages. The portal makes sure that information is readily available to citizens through digitising numerous processes and services.
Effective Service Provision
The platform streamlines gram panchayat service delivery, increasing its effectiveness and accessibility for locals. Citizens can apply for a variety of services, including birth certificates, land records, and building licenses, through the Internet platform.
Enhanced Public Engagement
The E-Gram Swaraj Portal gives citizens more authority by enabling their active involvement in local governance. It offers a forum for residents to express their issues, offer criticism, and offer suggestions for the improvement of their communities.
Streamlined Grief Resolution
A strong grievance redressal mechanism is built into the platform, allowing citizens to file grievances and monitor their progress online. This feature guarantees that complaints are handled efficiently and quickly.
Enhanced Financial Management Efficiency
The E-Gram Swaraj Portal's financial management technology assists gram panchayats in simplifying their budgeting, allocation, and expenditure tracking procedures.
Encourages the development of all people
At the local level, the E-Gram Swaraj Portal is essential for advancing inclusive development.
Makes data-driven decision-making easier
The portal produces insightful data on a range of rural governance issues, including service delivery, public feedback, and development initiatives.
Conclusion
The E-Gram Swaraj Portal offers gram panchayats and rural communities in India a variety of advantages. The portal transforms rural governance and lays the way for inclusive and sustainable development by encouraging transparency, efficiency, and public involvement. The E-Gram Swaraj Portal serves as a potent catalyst for the empowerment of rural communities, ensuring that their voices are heard, and their demands are answered, thanks to its user-friendly interface and a variety of functions.