Aadhaar KYC: What, Why, and How Do it?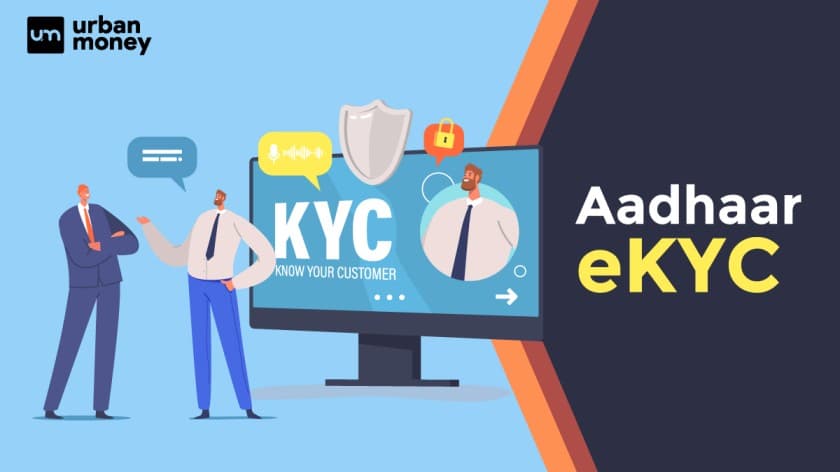 In the era of digitisation, everything around us demands transformation. It can be getting instant updates, document renewal, KYC updation and much more. And with that, the urge to develop digital infrastructure becomes utmost priority. With the very same preview, one more thing keeps on popping up, that is Aadhaar updation. Sometimes, it's updating new information on Aadhaar, or getting Aadhaar KYC done. 
Sometime before, there was a constant SMS popping up on everyone's phone, which was to get their Aadhaar KYC done, else the individual can lose the authenticity of the document. But, this harsh measure was resolved in a way that mandate on KYC updation was made lenient. This was because of the hodge-podge process involved getting the KYC. 
Keeping the issue in mind, UIDAI resolved the concern by coming up with an alternative of Aadhaar eKYC. This initiative made the eKYC Aadhaar easy. But, one must wonder why altogether KYC or Know Your Customer is so important. Prioritizing safety and security of every citizen, the document Aadhaar(generally taken as sole proof of an individual's identity) was made available to have its KYC done to verify the identity of individuals along with their authenticity. 
This particular guide pertains to in-depth details about the process of Aadhaar eKYC, its importance, how you can get it done and much more. To know it all, run down through the guide and get it all.
Aadhaar Based eKYC
The Aadhaar e-KYC is as simple as a digital process wherein you furnish your KYC documents to prove your identity. Aadhaar based e-KYC is a paperless authentication process of identifying an individual, performed with their consent. 
The procedure comprises ID verification via demographic and biometric details available in the UIDAI database, gathered at the time of the Aadhaar registration process. The UIDAI already scrutinises such particulars; therefore, it saves time on comprehensive paperwork and attestations.
As Aadhaar is a comprehensive document that stands valid for details like name, address, age, etc., using Aadhaar for such purposes saves the hassle of producing multiple documents. 
Types of Aadhaar eKYC 
Typically, there are two types of Aadhaar eKYC you can approach. They are as follows:
Using Biometrics:

In this process, you must provide your 12-digit Aadhaar number along with biometrics such as iris scan or fingerprints. If you are interested in investing, then the relevant authority in the fund house will complete the verification process via this procedure. 
Using OTP:

In this method, you need to furnish your Aadhaar number, after which you will get an OTP on your registered mobile number. After entering the OTP, you can complete the entire verification process. 
Difference between Aadhaar Authentication and Aadhaar e-KYC 
While Aadhaar authentication and Aadhaar eKYC may appear similar to many, the truth is that they are slightly different from each other. In Aadhaar eKYC, the service providers can receive access to your data from the UIDAI database. However, Aadhaar authentication confirms your credentials. In simpler terms, it is not an obligation to deliver your demographic information to get verified by Aadhaar authentication. 
Online e KYC Authentication / Aadhaar Online Authentication and eKYC Services
The online eKYC authentication is a straightforward task and can be done easily following the below-mentioned process:
Demographic Authentication – Particulars such as your name, gender, address, and date of birth are classified as demographic details. When you apply for an Aadhaar card, you need to supply such information. When you receive your Aadhaar card, it already contains your demographic information linked with the number. In demographic authentication, the demographic details associated with the Aadhaar number are verified with the information available in the CIDR. 
OTP Based Authentication – OTP (One Time Password/ Pin) is a password or PIN valid for a short period. You can use it only once for a transaction or login session over the internet. The OTP-based authentication allows individuals to compare and establish their identity to access Aadhaar-linked services. In this process, users ask for an OTP through the service provider's application and then furnish their Aadhaar number along with the OTP sent on their registered email or phone number. 
Biometric Based Authentication – In such a process, individuals undergo the evaluation process where one or more of their different biological traits are uniquely identified. Such distinctive biological traits can be their voice waves, iris patterns, retina, DNA, or fingerprints. For Aadhaar authentication, authorized service providers and other allied entities use fingerprints or the iris patterns of individuals to establish their identities. Under this authentication process, the Aadhaar number and biometric details of the individuals are compared with the data available with the CIDR. 
Multi-Factor Authentication – True to its name, multi-factor authentication utilises a compound of two or more authentication modes. The entity willing to use multi-factor authentication may opt for any combination of authentication methods that suits them the best. 
Aadhaar KYC Offline / Offline eKYC Process / Offline Aadhaar eKYC Process
While Aadhaar eKYC is an online process, you can also opt for an offline authentication process in case the online procedure doesn't seem feasible. To do the same, you can use any of the following methods described below:
1) By scanning QR code
Service providers may scan the QR code available on the Aadhaar card using a mobile scanner to get all demographic information and complete the offline UIDAI KYC verification. Deriving information through this mode doesn't require agents to access the database of UIDAI.
2) Paperless Method of Offline e-KYC 
You can also opt for Aadhar paperless e KYC offline by following the steps below:
Step 1: Visit the official website of the UIDAI.
Step 2: Enter your VID or UID, the security code, and click on "Send OTP."
Step 3: Submit the OTP received on your registered mobile and download the Aadhaar XML. It comprises your details such as your name, date of birth, gender, mobile number and hashed email, among other information. It is also electronically signed by UIDAI and is secured with a 4-character Share Code. 
Step 4: You can then deliver this XML file to your service provider. The provider will then scrutinise your identity with the help of the machine-readable details in the file. 
The process decreases the paper-based verification costs and is a faster way to complete one's official identification. 
Aadhaar KYC Registration / Aadhaar eKYC Online Registration 
There are a couple of ways to verify your KYC online. You can either do it with the help of biometric authentication or through mobile OTP authentication. 
1) Via Biometrics Authentication
If you choose to go for Aadhaar eKYC verification using biometrics authentication, you must go through the following procedure:
Step 1: Submit your Aadhaar card to your service provider. They will register your UID (Unique Identification Number) or Aadhaar number.
Step 2: Then, the provider will capture and read your retinal image or fingerprint using a biometric scanner. 
Step 3: This value is then conveyed to the UIDAI. The UIDAI will then compare this input with the current value against your Aadhaar in its database. 
Step 4: Your identity will be confirmed once both the values match. 
Step 5: Once this verification process is over, the service provider will get access to all your details like address, birth, photograph, etc., from the UIDAI. 
The UIDAI also allows the agent to store a soft copy of such data in their servers, allowing them to access such information as and when required. 
2) Via Mobile OTP Authentication
You can also choose to perform Aadhaar eKYC using the OTP-based authentication method. Given below are steps for the same:
Step 1: Submit your Aadhaar before the Aadhaar service provider.
Step 2: You will receive an OTP on your registered phone number from UIDAI.  
Step 3: The service provider will ask you to enter this OTP into their device.
Step 4: The UIDAI will share your details with the agent, similar to the biometric authentication procedure. 
Aadhaar KYC Update Status
If you wish to use or access financial services, you must comply with the KYC guidelines first. Nevertheless, if you aren't sure if you are KYC compliant or not, you can check your Aadhaar KYC update status by following the steps given below:
Step 1: Visit the official portal of any KYC Registration Agency (KRA). 
Step 2: Enter the details of your PAN (Permanent Account Number). 
If you are KYC compliant, you will immediately get to know. However, if you are not, you can complete the process for the same using an Aadhaar-based biometric. 
How to Change KYC Details Online?
You can change/ update digital KYC records by visiting the eKYC portal of your choice, such as any KRA, wherein you have to click the "Update KYC" link. Then, enter the new details and upload the scanned copy of the updated documents to authenticate the proof of changes. After this, you will receive an OTP on your registered mobile number. After the verification, you can click on 'Submit' and the details will be changed or updated within a week. 
Difference Between KYC and E-KYC?
The electronic version of the "know your customer" procedure is known as eKYC. Financial institutions must follow the KYC procedure as required by the RBI when authenticating and confirming a customer's personal information. The KYC policy has several advantages, and eKYC is no exception.
Advantages of Aadhaar eKYC otp
There are many benefits of Aadhaar eKYC based on OTP and are discussed below:-
Government regulations are followed through Aadhaar E-KYC. As a result, it is quite reliable.

The E-KYC procedure is paperless. It streamlines the process and makes it more efficient.

Because of digitalisation of data, the possibility of document fabrication is somewhat low.

E-KYC is only implicated with the person's permission. Hence, the likelihood of deception is lower.

The verifications are completed immediately and in real-time.

Compared to the standard paper-based verification, E-KYC is less expensive.

When UIDAI's encrypted network is used for verification, data privacy is assured.
Use of Aadhaar eKYC
The UIDAI provides a way to verify the identification of people who have Aadhaar numbers via an online electronic KYC service. With the e-KYC service, which also provides quick, validated identity verification, paper-based KYC and identity verification costs are significantly reduced. Before making any investments for the first time, KYC is necessary. While creating a bank account or investing in fixed deposits, several banks additionally ask their clients to complete a KYC form.
Impact of Aadhaar Electronic Know Your Customer service
The country has felt the effects of Aadhaar e-KYC strongly and visibly. Customers and service providers both benefit because it lessens paperwork for everyone involved. The country has distributed more Aadhaar cards, so people no longer have to worry about bringing a lot of paperwork with them when they visit service providers. Many customer-provided documents are not also required to be protected by the service providers. It lowers the expense of maintenance and operations. A single server that can be viewed whenever necessary by service providers can be used to store all of their information. The method is reliable and far less prone to fraud, and there is less human participation. It reduces time and resource consumption while increasing overall effectiveness.
Conclusion
Aadhaar KYC is a crucial process, but doing it conventionally may require you to submit various documents physically, which could be quite a daunting task for many. However, now you can also opt for Aadhar paperless e-KYC, which is hassle-free and doesn't require any physical paperwork. eKYC is a paperless user-identification process that fulfils the obligatory KYC requirements before your start your investment journey. 
If you are interested in investing in stock markets, you can complete your KYC obligations using Aadhaar based eKYC. If you wish to invest in mutual funds investment, then as per SEBI regulations, you can use OTP-based eKYC mutual funds investment to the limit of only ₹ 50,000 per annum. However, if you wish to have a higher transaction/ investment limit, you can opt for IPV (In-Person Verification) or Biometrics-based verification.
FAQ's About Aadhaar KYC
How are Aadhaar details authenticated?
Aadhaar details are usually verified using the OTP function. The agency requests the UIDAI to send the OTP to the registered mobile number, and the user needs to enter this OTP to authenticate the details. 
Do I have to submit any physical copy of my Aadhaar card for Aadhaar e-KYC?
No, Aadhaar e-KYC is an entirely paperless process and doesn't involve submitting any physical copy of the document, like an Aadhaar card.
What should I do if it says 'Aadhar authentication failed' while updating my KYC details on my EPF portal?
If your authentication has been rejected or not approved by UIDAI, you can try to update your details again and make sure that you enter the correct information.
What can be the hindrances faced when opting for online Aadhaar e-KYC?
Service providers may face trouble while completing Aadhaar eKYC online due to the following reasons:
Poor internet connectivity

Lack of technical infrastructure or essential devices
In such circumstances, users can try performing offline authentication.
Can my service provider share my offline paperless e-KYC data with other entities?
No, private agents and institutions are legally prohibited from exhibiting, sharing, or publishing any offline e-KYC details such as Share Code or the XML file. Leaking of such confidential data will attract penalties under Sections 29 (2), 29 (3), and 37 of the Aadhaar Act, 2016, Sections 17 and 25 of the Aadhaar Authentication Regulation, 2016, and Sections 4 and 6 of the Aadhaar — Sharing of Information Regulation, 2016.
How is offline Aadhaar e-KYC more effective than offline document verification?
When any ID proofs like PAN, voter ID, passport, or driving license are being verified, there is no technical way to authenticate the validity of such documents. Moreover, a user can easily obtain an undetectable fake version. On the other hand, the XML file employed in offline Aadhaar eKYC is electronically signed and protected by UIDAI. Besides, the agents can verify its contents with the help of an XML reader to complete the process