Aadhaar Card Photo Change
Step by Step Guide to Change Your Aadhaar Card Photo
Aadhaar Card is a unique identification document issued by the Government of India. In effect, it is a primary document for identification for all Indian residents. However, sometimes the Aadhaar Card Photo  might not reflect how you really look now. Due to this reason, you might find it difficult to carry out a number of different processes. To counter this, the Unique Identification Authority of India enables Aadhaar Card holders to chnage their photographs. 
Important Points to Remember During Aadhaar Card Photo Change
Given below are some of the vital points that you should keep in mind while changing to your photo on the Aadhaar Card:
The UIDAI website takes up to 90 days to reflect your Aadhaar Card updates.

You are not required to produce any documents for photo updation

Currently, there is no online portal for updating your photo.

You can track the update status by using the URN (Update Request Number) provided to you in the acknowledgement slip.
Steps to Change Your Aadhaar Card Photo
You can update your Aadhaar photograph by visiting your local Aadhaar Enrollment Centre. Given below are the steps to do so:
Step 1: Visit the nearest Aadhaar Enrollment Centre or Aadhaar Sewa Kendra.
Step 2: Request for an enrollment form. You can also consider downloading the form from the official website of UIDAI
Step 3: Furnish all the details as prescribed in the form
Step 4: Submit the form to the concerned official and provide your biometric details
Step 5: Get your live photograph clicked by the executive
Step 6: Pay the aadhaar card photo change charges. It amounts to INR 100.
Step 7: Collect the acknowledgement slip along with the URN from the executive
Step 8: You can track the updation status using the URN number
Aadhaar Card Photo Updation Charges
If your Aadhaar Card photo needs to be updated, you can visit your nearest Aadhaar enrollment centre. The aadhaar card photo change process will cost you INR 100. You can track the update process via the Update Request Number.
Aadhaar Card Photo Change: Timings
The Aadhaar Enrollment Centre/ Aadhaar Sewa Kendra is open everyday from 9:30 AM to 5:30 PM (IST) , excluding public holidays. Aadhaar centres other than UIDAI's Aadhaar Sewa Kendra follow timings as defined by their respective registrars. The appointment portal allows you to reschedule an appointment if you missed it. The UIDAI's official website reflects the update within 90 days.
Aadhaar Card Photo: Front and Back
Aadhaar Cards are printed on both sides. They feature the holder's name, photo, date of birth, gender, and unique identification code as well as a QR code. The QR code is a digitally signed visual code that contains demographic information and photograph of the Aadhaar Card holder. Meanwhile, the card holder's primary address is printed on the back of the card.
How to Download The Digital Aadhaar Card 
Once your aadhaar card photo change request has been processed, you can download the updated version of your Aadhaar Card from the UIDAI website. The following steps must be followed to obtain a digital copy of your Aadhaar Card:
Step 1: Visit the official website of UIDAI
Step 2: Under the 'My Aadhaar' drop down menu, select 'Download Aadhaar' option.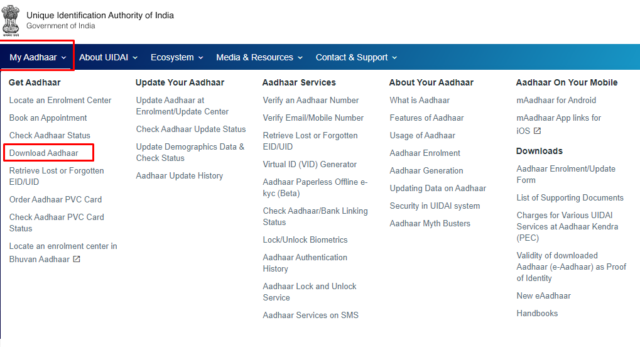 Step 3: You will now be directed to a new page, where you have to fill in your 
Aadhaar number, enrollment ID/ virtual ID.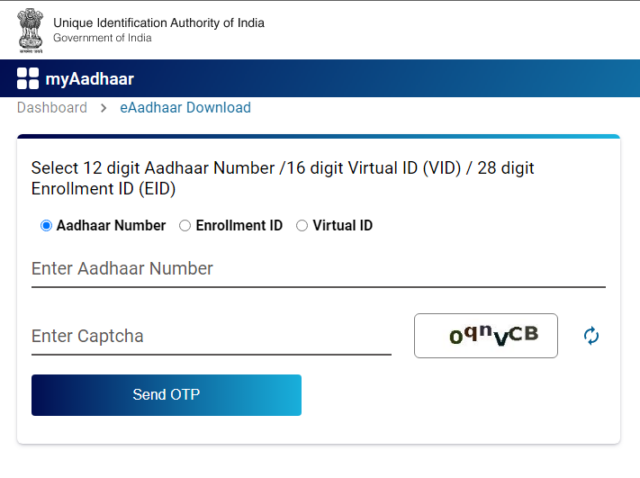 Step 4: Enter the captcha, in order to prove that you are not a robot and click on 'Send OTP'
Step 5: You will receive the OTP on your registered mobile number 
Step 6: You have an option to choose between a Normal Aadhaar Card or Masked Aadhaar Card.
Step 7: Click on' Verify and Download.' A PDF containing a digital copy of your Aadhaar Card will be downloaded to your PC/ mobile device.
Aadhaar Sewa Kendra Centres Near Me
The UIDAI facilitates the Aadhaar Card application and aadhaar card photo change for all Indian citizens. Following these steps will help you find an Aadhaar Card enrolment centre near you:
Step 1: Firstly, visit the official UIDAI  website.
Step 2: Click on "Locate Enrolment & Update Centres in Other Cities" on the website.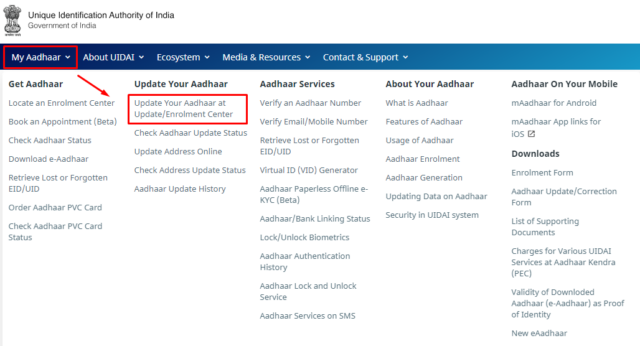 Step 3: Select your state, your pincode, and search box option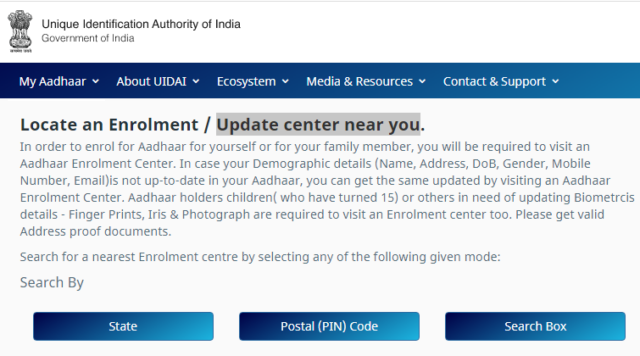 Step 4: In case you are looking for permanent centres, click on the checkbox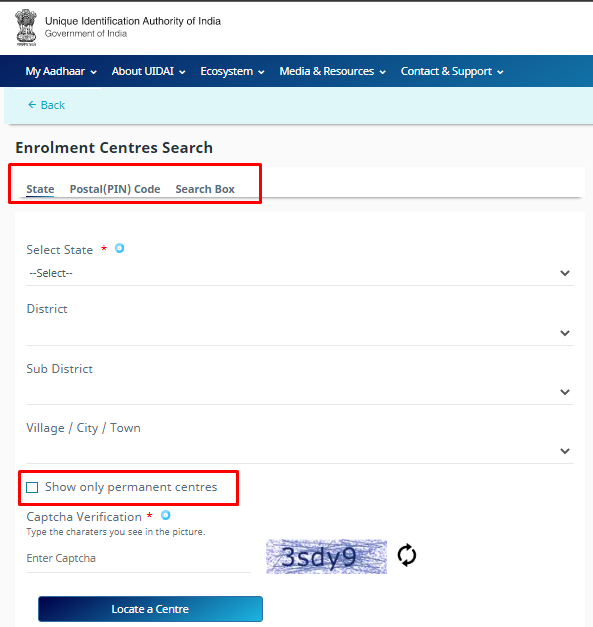 Step 5: Enter the captcha and click on 'locate a centre' button
Step 6: You will now be redirected to a new page where all the nearest Aadhar Card photo updation centres will be displayed on your screen.
Aadhaar Card Photo ID Number
The Aadhaar Card is a 12 digit unique identification number which is generated by UIDAI. Aadhaar Card serves as an identification proof anywhere in India.
Aadhaar Card ID Size
Aadhaar Card is a rectangular shaped identity card. The Aadhaar Card photo ID size is, 4.41 cms*12.91 cms.
Aadhaar Card Photo Change: (FAQs)
What is the photo ID number in the Aadhar card?
The Aadhaar Card number is a twelve digit unique identification number that serves as a primary identity proof for any Indian resident.
How can I download my Aadhar card photo?
You can download the digital copy of your Aadhaar Card in the official website of UIDAI  https://uidai.gov.in/  Follow the aforementioned steps to download to access the same.
Can I change my photo on my Aadhar card online?
No, currently you can not Change your Aadhaar Card photo through the online using the Self Service Update Portal (SSUP).